Addison Rae returns to social media to apologise for old 'all lives matter' post
9 July 2020, 11:53 | Updated: 31 August 2022, 15:29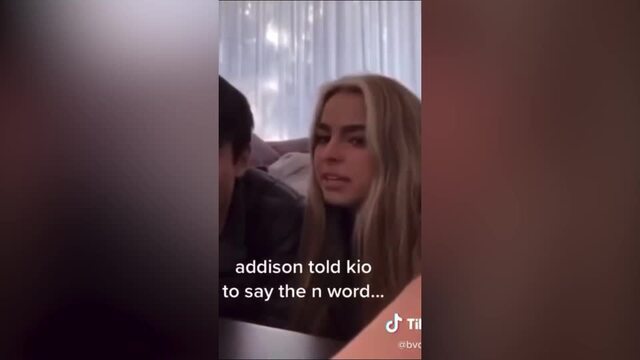 Addison Rae appears to ask Kio Cyr to "say the N-word" on Instagram Live
"I am truly sorry and I am committed to using the platform you all have given me to work on becoming a better ally."
After a week of silence on social media, TikTok star Addison Rae has returned to Twitter with an apology.
Fans had been growing worried about Addison's whereabouts after she disappeared from social media at the end of June. She hadn't posted on TikTok since 29th June, and hadn't tweeted since the 30th.
Rumours soon began swirling that Addison had been taken to hospital but those rumours were soon debunked by friends and family. Others just assumed that she had taken a step back from posting after being called out for a number of reasons.
READ MORE: Addison Rae apologises to Charli D'Amelio after liking old "shady" comments
Last week, Addison was accused of blackfishing in a new video, and was also pulled up by fans after it appeared as though she asked Kio Cyr to "say the n-word" in another video. Kio later clarified that Addison had actually asked him if he said it.
Addison returned to social media yesterday (July 8) to apologise for an insensitive all lives matter post that she shared four years ago, when she was 15 years old.
In her statement, Addison writes: "I owe all of you an apology. Four years ago, I reposted a video which included a woman sharing her thoughts on Black Lives Matter and All Lives Matter that I should not have."
She continued: "Because of my privilege, I didn't understand and wasn't educated enough on the social injustices facing the Black community. All lives CANNOT matter until Black lives do. The Black community continues to be oppressed and damaged by systemic racism.
"I see my mistakes and am committed to learning from them. I will never stop growing, learning, and fighting for those whose voices rightfully need to be amplified, will forever believe that Black Lives Matter."
Addison ended her apology by writing: "I am truly sorry and I am committed to using the platform you all have given me to work on becoming a better ally. I love you all endlessly."
Reactions to her apology have been mixed, with some fans accepting her statement and others unhappy that she took over a month to address the situation.
Despite posting her apology on Twitter, Addison has not yet returned to TikTok.