YouTuber Colleen Ballinger loses 30,000 subs after allegations of inappropriate behaviour
14 June 2023, 19:21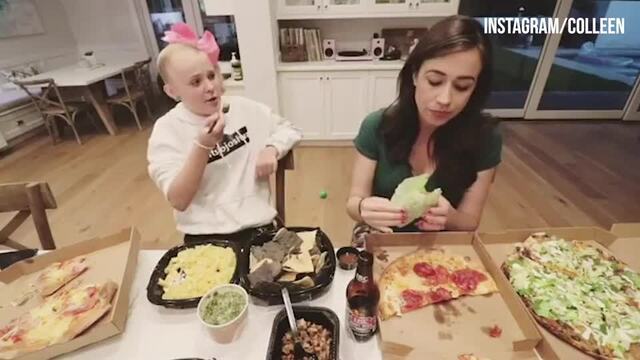 Colleen Ballinger and JoJo Siwa open up about receiving hate from trolls
Adam McIntyre has spoken out in two new videos with new claims about Colleen, following his 2020 video in which he alleged she acted inappropriately with minors online.
Colleen Ballinger has just lost thousands and thousands of subscribers following a string of new claims regarding her alleged inappropriate behaviour.
The comedian and YouTuber, who is best known for her Miranda Sings character, is facing a fresh wave of backlash after she was accused of inappropriate behaviour by a former fan, now turned YouTuber, Adam McIntyre.
The allegations first arose in 2020, when Adam released a video claiming, amongst other allegations, that Colleen allegedly sent him lingerie when he was 15.
Colleen addressed the allegations at the time, saying that she did send the underwear (new, unused, tags still on) but as a joke, explaining that she always used to send joke presents to fans.
Now, in a new video released last week, Adam has shared that he believes Colleen tried to turn her fans against him to discredit his initial claims.
In two videos posted on YouTube, titled 'i was right about colleen ballinger' and 'my relationship with colleen ballinger', Adam (now 20) also shared alleged screenshots of a group chat he was in with Colleen when he was around 14 or 15 years old. The screenshots then appear to show Colleen asking inappropriate questions, asking fans to describe their first period, and making fun of a fan who got a tattoo in her honour.
Colleen was reportedly in her 30s when these conversations with young fans took place.
Later in the video, Adam also claims Colleen was trying to "ruin" him via a smear campaign, and accused him of running a hate account about her.
my relationship with colleen ballinger
While she addressed the initial claims back in 2020, Colleen has not yet spoken out in regards to Adam's latest video.
As of Wednesday (Jun 14) morning, Colleen hasn't posted on TikTok for a whole week. Over on her Instagram, it's been silent since May 31st on her grid. Her comments have also been limited. She's also now losing followers. According to Social Blade, Colleen has lost 30,000 subs on YouTube.
Not everyone is abandoning her, though. Under her last Instagram post, there are many fans leaving supportive messages too.
Will Colleen respond to Adam's new claims? It's hard to see how she can continue making content without addressing them head on.
Niall Horan Breaks Down Every Song On 'The Show' | Making The Album