Shane Dawson quits beauty community and slams "two-faced" beauty gurus
22 June 2020, 17:34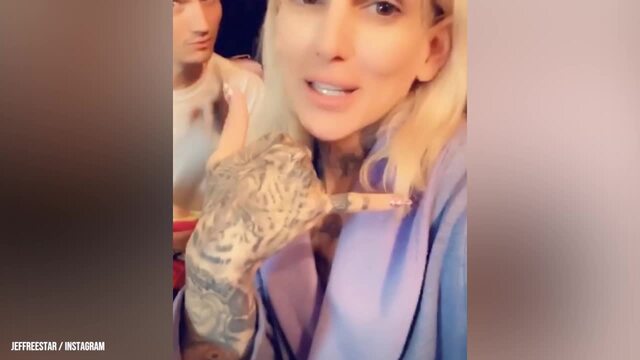 Jeffree Star teases his new video with Shane Dawson
Shane also revisited the Jeffree Star, James Charles and Tati Westbrook drama from last year.
There are only three things guaranteed in this life – death, taxes and YouTube drama. Today's piping hot tea comes straight from Shane Dawson, who took a break from making his horror movie blockbuster to address some unfinished YouTube drama (see: James Charles, Jeffree Star and Tati Westbrook).
On Sunday (June 21), the YouTuber decided to put to bed rumours that he "orchestrated" the whole "Dramaggedon 2.0" fiasco which gripped the world in May 2019. Yep, we're still talking about it.
If you cast your mind back, you'll remember that Tati Westbrook dropped a YouTube video calling out her former friend James Charles and it became a massive scandal. In seconds, James lost millions of subscribers and the whole world starting turning on him. It was a whole mess.
READ MORE: Jeffree Star apologises for "offensive" Lipstick Nazi website
Anyway, Shane shared a four-page notes app dissertation to Twitter basically denying that he conspired behind James' back with Tati, and calling out James, Jeffree Star and the beauty community.
The essay started with Shane admitting that he knew Tati was making the video about James, but he didn't instruct her to make it, nor did he have any involvement in it.
Next, he attacked beauty gurus in general for being "egocentric, narcissistic, and vengeful". He wrote: "The beauty gurus who are ALWAYS involved in scandals are ALL THE FUCKING SAME. They are all attention seeking game playing egocentric narcissistic vengeful two faced ticking time bombs ready to explode. And I'm OVER it. This all happened over a year ago and I'm really sick of hearing about it and having people constantly using it as a way to keep my name and other names tagged together in drama videos."
Shane also let rip on his close friend Jeffree Star, saying that although he loves him like "family", he doesn't agree with how he handles things. Shane added: "Yes, Jeffree is in that list of dramatic gurus and he would admit that, and he will always be family to me and I love him, despite those characteristics. He's very aware of the fact that I don't agree with many of the ways he approaches situations and I have been very honest with him about needing to make some changes."
For everyone who hasn't gotten the chance to read what Shane Dawson said before he deleted it. He wants to be all shady but can't stand when people treat him like how he knew James Charles was being treated. So there's that. pic.twitter.com/7FrM99fluD

— ~°♡𝓝𝓞 ♡°~𝐵𝐿𝑀_𝐹𝒪𝑅𝐸𝒱𝐸𝑅₄ Bₗᵢₙₖ♤♡◇♧ (@XAppendix) June 21, 2020
Shane then decided to set his sights on James, saying: "Do I think he was a young, egocentric, power-hungry guru who needed to be served a slice of humble pie the size of the Empire State Building? Yes."
However, he did apologise for teasing the James/Tati/Jeffree drama in the trailer of his docu-series "The Beautiful World of Jeffree Star". Shane ultimately decided not to air the drama.
Shane – who deleted his whole post, btw – finished by declaring that he's done with the beauty community, despite launching his incredibly successful Conspiracy palette with Jeffree Star Cosmetics. He continued: "I'm done with the beauty world. I love what I was able to create with Jeffree and I'm sure people are going to assume I only did it for money, but that's not true. I just am choosing to no longer be a part of that world."
Naturally, the internet had something to say about this all.
It took Shane Dawson, Tati Westbrook AND Jeffree Star to take down James Charles. Shane didn't even last 5 FUCKING MINUTES! When James was suicidal, you were selling Jeffree's merch and promoting Tati's pills! You even had the FUCKING NERVE to CALL James asking to DOCUMENT IT!🤬 https://t.co/YeoEcYQSew

— Bonita Lynch (@MsBonitaaplebum) June 21, 2020
can i just remind you that in may 2019, 37 year old tati westbrook, 33 year old jeffrey star and 30 year old shane dawson all collectively decided they needed to bully 19 year old james charles to "humble" him. over fucking hair vitamins.

STOP SUPPORTING THESE PEOPLE.

— shelly//BLM//ACAB (@shelly_tompkins) June 21, 2020
TW
Tati, Jeffree Star, and Shane Dawson should have faced more serious consequences for their actions and false allegations towards James Charles but you all don't call them out because you like their content. That boy could have ki*led himself from 30 year olds spreading rumors.

— M.N. (@quotethesurface) June 15, 2020
I could dissect & write an entire thesis on Shane Dawson's messy statement:

Putting Jeffree "FUCKING" Star on a pedestal & glamorizing his behavior because James Charles is a "competitor"

.. makes me think that Jeffree was shook at the success of the James x morphe palette pic.twitter.com/ac3L6hIVri

— she said what? (@talkingather) June 22, 2020
Whew, so much drama, so little time.
QUIZ: How popular are your beauty community opinions?