The internet is roasting Kylie Jenner's cameo in the WAP music video
7 August 2020, 12:19 | Updated: 6 October 2020, 10:40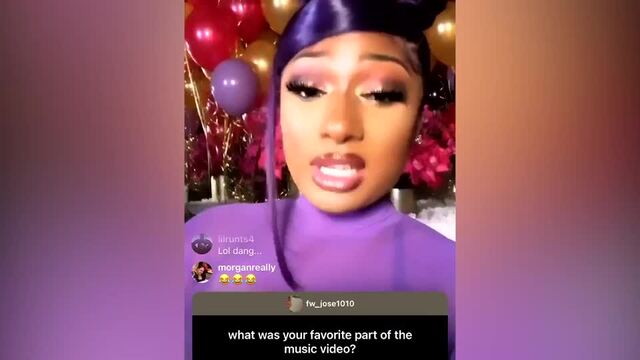 Megan Thee Stallion shares Cardi B's hilarious reaction to filming the snake scene in WAP music video
Kylie Jenner made a surprise cameo appearance in Cardi B and Megan Thee Stallion's 'WAP' music video and the internet is shook.
Cardi B and Megan Thee Stallion finally dropped the 'WAP' (an acronym for Wet-Ass Pussy, btw) music video on Friday (Aug 7) after teasing the record earlier this week, and it's everything you would expect from the iconic collaboration.
From Cardi and Megan writhing around with real live snakes, to the tracks extremely (!!) explicit lyrics, it comes as no surprise that YouTube forced the rap duo to censor the steamy song. "The song was so nasty that YouTube was like, 'Hold on, wait a minute, that song might be too goddamn nasty,'" Cardi said in an Instagram video.
READ MORE: Megan Thee Stallion tearfully speaks out about being shot
But the moment everyone is talking about are the shock cameos from Kylie Jenner, Rosaliá, Normani, Rubi Rose, Sukihana and Mulatto. In the video, Rosaliá, Normani, Rubi Rose, Sukihana and Mulatto all showcase their best moves as they bop along to the catchy track. And Kylie? Well, she kind of just walks down a corridor.
Watch the 'WAP' music video here.
Cardi B - WAP feat. Megan Thee Stallion [Official Music Video]
As you can imagine, the internet couldn't resist roasting Kylie Jenner's 'WAP' cameo.
I enjoyed the WAP video. Bright and colorful and wholesome. Educational. But why the Kylie Jenner interlude? No one asked for that.

— roxane gay (@rgay) August 7, 2020
And her little snippet is already a meme…
However, they were living for the other cameos.
Normani's dancing?? Rubi Rose's ponytail?? Sukihana's outfit?? Mulatto's moves?? Rosaliá's... EVERYTHING?? Chef's kiss.
READ MORE: Kylie Jenner is accused of refusing to pay workers who make her clothing lines
Whew, the internet never rests.