Lizzo says "black people are tired" during emotional speech supporting Black Lives Matter
2 June 2020, 12:22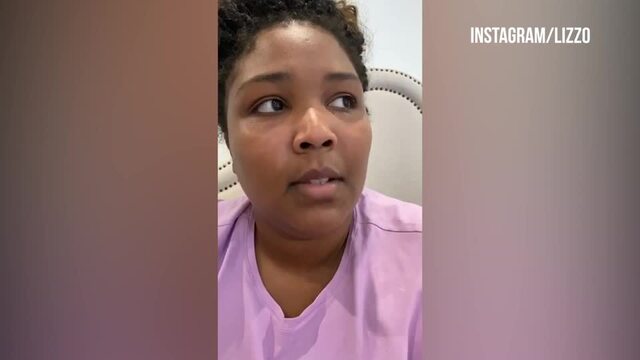 Lizzo opens up about racism in Instagram Live
Lizzo took to Instagram Live to share her thoughts on the murder of George Floyd, and her own experiences with racism and how "black people are tired".
We can always count on Lizzo to be a voice of reason in uncertain times, and when she's not using her platform to speak up about body-shaming, she's now gracing us with much-needed education on racism, inequality, and has shared her thoughts on the murder of George Floyd with the world.
Lizzo, real name Melissa Viviane Jefferson, took to Instagram Live on Monday night (June 1) to give her thoughts on the current protests happening worldwide and how she felt a "responsibility' to use her platform to do the right thing. Rubber bullets and tear gas have already been fired at peaceful protestors, and people, whether in-person or online, are taking a stand.
Fighting back tears as she told of the events, she explained, "It's never black people, it's always white people using the term 'race war'. We don't want that sh*t."
READ MORE: Tamika Mallory says "America has looted black people" in Black Lives Matter speech
"We want what we've always wanted from the beginning of being in this f--king country, the same right that all these other people have," she continued. "It's not this difficult. I've been trying to stay composed this entire time. I'm really working on it this entire time." 
The "Truth Hurts" singer also added that she doesn't think the current situation isn't political, and instead, embedded in America's history of racism: "I'm tired of putting myself in danger. It's not danger from the protesters, [it's] danger from the police who don't value me. Danger of the white supremacist groups who are shooting at people, who are running people over with their cars.
"How do we not see where the issue is? Why is everyone being so—in the media—political? This isn't a political issue. The issue is in politics, but it's not a political issue. It's so much deeper than politics. It's in the veins of this country...there is racism running through its veins."
"Nobody seems to care about the way that black women feel," she said. "I wasn't in this position a year ago, [with] this profile. This many people didn't know who I was a year ago. I remember every time these things happened...I would look to these famous people and say, 'Where are your voices? Why aren't you speaking up for us?' I have to realize that responsibility as well. It would irresponsible of me to not reflect the times, irresponsible to not tell the truth."
She ended the live-stream by adding that the level of uproar was something never seen before, and that it sets the tone that a change is coming.
"I still love my blackness. I still love your blackness," the Grammy-award-winning singer finished. "I still believe that everybody's life matters. But until we start treating each life equally and respecting each life equally, we gotta say Black Lives Matter. I hope that everybody can just really see this sh-t for what it is. Open your mind, open your heart, listen, believe."
Since speaking out, a number of celebrities have been spotted out at peaceful protests around the USA, including Ariana Grande, Halsey, and Beyoncé has taken to social media to share their messages of support for those fighting injustice - and many of those have changed their social media profile pictures to a black fist in solidarity.
On Tuesday, June 2, the world is observing a social media blackout using the hashtag #BlackoutTuesday, to turn people's attention towards education on racial issues, promoting fundraising pages, as well as highlighting other ways to get involved with supporting this incredibly poignant issue.
#BLACKLIVESMATTER.
READ MORE: Here's how to support the Black Lives Matters protesters