Everyone is thirsting over Lucas Bravo's Gabriel in Emily In Paris on Netflix
5 October 2020, 16:02 | Updated: 11 January 2022, 16:50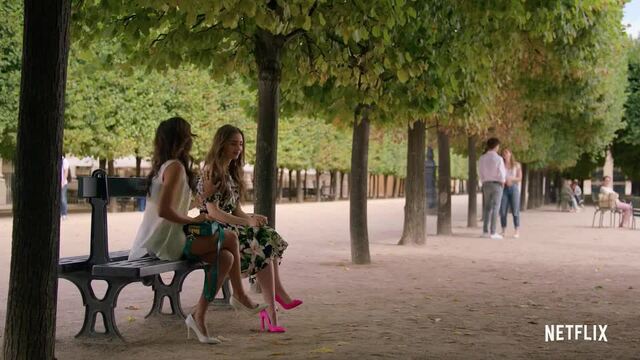 The official trailer for Emily in Paris on Netflix
The internet has spoken... we have a new boyfriend.
After binge-watching 10 episodes of Netflix's Emily In Paris, there's four things that will almost certainly happen to you.
You'll develop a serious case of wanderlust, a strong urge to eat an entire bag of freshly baked Pain au chocolat, a sudden love for bold prints... and you will end up with at least 5 new massive crushes. (Literally who gave this cast the right to be so sexy!?)
READ MORE: Everything we know about Emily In Paris season 2 so far
One of those crushes will likely be Gabriel, Emily's french neighbour who happens to be a very charming, very hot chef. Gabriel is played by French actor Lucas Bravo and he's stealing hearts all over the internet.
Bravo's Gabriel has now joined the ranks of all of the other iconic leading men in Darren Star's TV productions (which include Sex and the City, Younger and 90210). And, after just one season, viewers have fallen in love with the character and the actor. How do you say "the thirst is real" in French?
Might pack my bags, move to Paris and start knocking on doors until I find a neighbour as FOINE as Gabriel.
He's french AND he's a chef? Mon dieu!
That should be meeeeeeee, eating omelettes in Gabriel's apartment.
A little Gabriel fan cam for the cause!
Oh, to be Emily Cooper.
Can I hear a little commotion for Lucas Bravo?
Emily in Paris season 2 could honestly not come soon enough.
"A oui for me!"
With Emily In Paris already being lapped up by fans across the world, things are looking promising for a second season – which means we'll get to see more of Lucas on screen as our Hot French Chef Gabriel.
Elsewhere, on the big screen, Lucas is also set to star in Mrs Harris Goes To Paris. There's no release date for that just yet but... we're more than happy to wait.