28 facts about Mamma Mia that you probably didn't even know
4 September 2020, 12:31 | Updated: 25 September 2021, 18:45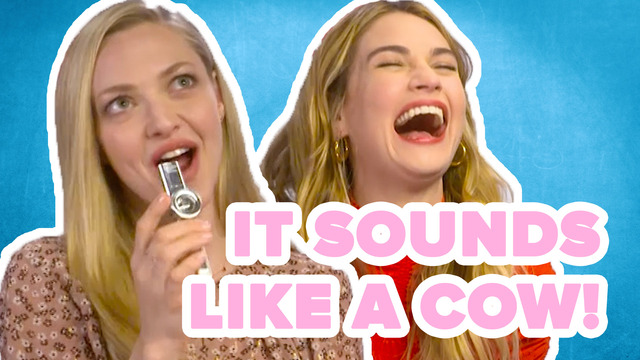 Mamma Mia! 2's Amanda Seyfried And Lily James Try To Play ABBA Songs On A Kazoo
Donna was almost played by someone other than Meryl Streep? AS IF.
The Mamma Mia movies (yes, both of them) are modern day masterpieces.
Meryl Streep in dungarees running and crying on a Greek island? Iconic. Christine Baranski doing high kicks on the beach? Iconic. Colin Firth and his little guitar ballads? Iconic. Pierce Brosnan's singing? Some of you might think otherwise but guess what? ICONIC.
You might think you know all there is to know about the Mamma Mia films, but here's a few facts about the MMCU (Mamma Mia Cinematic Universe) that we guarantee you had no idea about:
READ MORE: QUIZ: How well do you remember the Mamma Mia movies?
1) Cher, who plays Donna's mother Ruby in Here We Go Again, is only three years older than Meryl Streep.
Yes, really. At the time of filming, Meryl was 68 years old and Cher was 71. Clearly time and space do not exist on the fictional island of Kalokairi.
Producer Judy Cramer told Vanity Fair: "She could see the fun in that role... The fact that she's playing Meryl Streep's mother, which she and Meryl found hilarious... There was no sense of, 'Well I'm not playing someone's mother.' They just kind of embraced it."
2) Cher was originally offered the role of Tanya in the first movie.
She had to decline because of tour commitments and you know what, thank GOD, because otherwise we might have never been able to witness Christine Baranski doing high kicks on a beach in Greece with a cocktail in hand. Now we get the best of both worlds.
3) Cher was, however, the first and ONLY choice for the role of Ruby Sheridan.
Cher didn't even have the opportunity to turn it down either. She was told that she would be accepting the role. "My old agent became the head of universal. And he called me, and he said: "Cher, you're doing Mamma Mia... and he hung up," she told Gay Times.
4) Two other actresses were considered to play Donna.
Both Olivia Newton-John and Michelle Pfeiffer were reportedly considered to play the role of Donna. But Meryl Streep eventually ended up in the role partly thanks to a thank-you letter she sent to the cast and crew of Mamma Mia! on Broadway back in 2001.
Meryl previously revealed that she had taken her daughter and her friends to see Mamma Mia! a month after 9/11, and that the show had brought a huge amount of joy to their lives. Cramer saw the letter, made a mental note, and ended up asking Meryl to come aboard the movie seven years later.
5) Amanda Seyfried wasn't the only choice for the role of Sophie either.
Mandy Moore, Amanda Bynes, Emmy Rossum and Amanda's Mean Girls co-star Rachel McAdams were all considered for the role before Amanda bagged it and turned Sophie Sheridan into an icon.
6) American Pie's Chris Klein almost played Sky.
His audition tape for the role is now infamous on the internet for being really really REALLY bad. You can watch the whole thing below in all its glory.
Chris Klein With A Huge Audition FAIL
7) Lily James almost didn't audition for the role of Young Donna.
At first, her agents were a bit hesitant to pitch her the role but she soon accepted. The only problem was that the audition was on the same weekend as Glastonbury: "We went straight to Glastonbury and I think I got the part that weekend, but my agents knew not to call me, because I wouldn't have been reachable!"
8) It was Richard Curtis' daughter who actually planted the seed for Donna's death in the mind of writer Ol Parker.
When Curtis, a producer on the film, approached Parker to write the sequel, he explained that he already had a few ideas about what should happen. It was his daughter, Scarlett, who suggested it should be the ABBA-version of the Godfather II, meaning it would explore the backstory of Donna in a prequel type set-up. And why else would we need to explore Donna's past again unless... she had tragically and unexpectedly passed away ?! *wipes tear*
READ MORE: How did Donna die in Mamma Mia 2?
9) In the first movie, the "I Have A Dream" scene was actually shot in daylight, and was later edited in post-production to make it look like it was night.
OH, THE MAGIC OF EDITING.
10) Andy Garcia's character Fernando was literally created so that Cher could have a reason to sing 'Fernando'.
"I thought, there's a guy, he works in the hotel, he's older and he's Latin American," said Parker. "I was working it all out and he looks up, shouts "Ruby!" Ruby looks at him and shouts "Fernando!" ...That was reverse engineering in its extreme form, 105 minutes of set up for that one joke."
11) The boys who played the younger versions of Bill, Sam and Harry all lived together.
Josh Dylan, Jeremy Irvine and Hugh Skinner all stayed together while shooting scenes on location in Croatia. Lads on tour. Truly. (And they documented the whole thing on Instagram.)
12) The final scene where the entire cast sing 'Super Trouper' is mostly improvised.
All director Ol Parker did was blast 'Super Trouper' through the speakers and the cast did their own thing. The older cast and the younger cast were all given the chance to come up with their own routine when they appeared together on screen in the sequence. Colin Firth and Hugh Skinner? Harry Bright perfection.
Mamma Mia! Here We Go Again (2018) - Super Trouper Scene (10/10) | Movieclips
13) Both Lily James and Julie Walters injured themselves on set during musical numbers.
While filming the 'Waterloo' scene in Mamma Mia 2, Lily James broke her toe after running into a lighting stand. And in the first film, Julie Walters hurt her ankle while filming the 'Dancing Queen' scene.
14) The first film was shot partly on location in Skopelos, Greece.
Some of the film was actually shot on a specially built sound stage at Pinewood Studios. They used real trees to give the set a more authentic vibe. How nice.
15) The second film's on location scenes were shot in Vis, Croatia.
The location shift was partly down to "Croatia's filming incentive support and the skilled local crew base."
16) A lot of green screen was used in the film.
By now, you've probably all seen the viral video from the set of Mamma Mia 2 that shows Lily James acting in front of a green screen when she's meant to be on a Greek island. Despite the overwhelming evidence, the cast was actually on location for 2 months and they documented their stay in Croatia on their personal Instagram accounts too.
Cher didn't travel to Croatia though, so they had to shot her scenes in the UK, in a studio.
READ MORE: People are only just realising Mamma Mia 2 used green screen and everyone is losing it
17) The baby photos of Amanda Seyfried are actually real.
All the pictures that can be seen on Donna's dressing table are real throwback snaps of Amanda when she was younger.
18) Mamma Mia is actually set in 2000, while Mamma Mia 2 is set in 2005.
Despite the 10 year gap in their release dates, there's only a 5 year gap between the events of the first film and the second, if you pay close attention to the timeline. Mind you, the timeline doesn't make much sense anyway. Time doesn't exist on Kalokairi.
19) Bill is actually from Australia in the stage production.
While we know Bill as a free-spirited Swedish travel writer who knows how to sail a boat, in the stage play, he's an Australian. And his surname is Austin, not Anderson.
20) Meryl Streep recorded the vocals for 'The Winner Takes It All' in one take.
ABBA's very own Benny Andersson described Streep's recording as "a miracle".
21) Meryl Streep recorded an ABBA song for the soundtrack that didn't make it in to the second movie.
If you've listened to the Mamma Mia 2 soundtrack, you'll know that 'The Day Before You Came' doesn't feature in the film. Meryl liked the song, so she recorded it. And that's that.
22) There's a couple of songs that were cut from the first film too.
'The Name Of The Game', sung by Sophie and Bill, exists as a deleted scene on the DVD. 'Under Attack', 'One of Us' and 'Knowing Me, Knowing You' all feature in Act II of the stage show but didn't make it into the film.
23) Pierce Brosnan said yes to the film because of Meryl Streep.
Producers told him that the shoot was in Greece and that Meryl was in it. He had no idea it was a musical either. Lol.
25) British comedian Dawn French was originally meant to play Rosie... until the producers heard her sing.
Speaking on The Graham Norton Show, Dawn said: "I just had to do a musical audition but it was definitely in the bag. Everyone at the audition was lovely and chatty with me until I sang. By the time I got downstairs my agent had texted to say, 'This just isn't going to work, love!'"
24) Amanda Seyfried and Dominic Cooper dated in real life.
Yep, Sophie and Sky were together in real life while shooting the first film. They broke up in 2011. Speaking to Attitude, Dominic reflecting on returning to work with his ex, Amanda: "She's a friend. It was always going to be OK. You just have to be delicate with those situations."
25) In order to make Meryl and Amanda laugh during the 'Slipping Through My Fingers Scene', producers blasted heavy metal music.
That's genuine laughter you see on screen between the two.
26) The moment where Bill flashed his butt? That was improv on Stellan Skarsgård's behalf.
He said: "The director did not know I would be naked under there, and have those butt tattoos. So when the camera rolled, I turned around right in front of it. The cameraman jumped and screamed, while Phyllida keeled over laughing."
27) You can see Amanda Seyfried's tracksuit bottoms in the 'Lay All Your Love On Me' scene.
Despite fans absolutely loooving the sexy beach scene, Amanda Seyfried revealed that it was really cold while shooting. When the cameras weren't rolling, the pair were wrapped up in jackets and towels. In the shot where Sky lays Sophie down to kiss her, you can just peep the top of Amanda's tracksuit that she was wearing to keep warm.
28) The writers do actually know who Sophie's real dad is.
While the films never truly reveal who Sophie's dad is, writer Catherine Johnson and director Phyllida Lloyd know for sure that...
DRUMROLL, PLEASEEEEEEE...
Bill Anderson is her father.