The Society and I Am Not Okay With This cancelled by Netflix due to coronavirus
24 August 2020, 16:37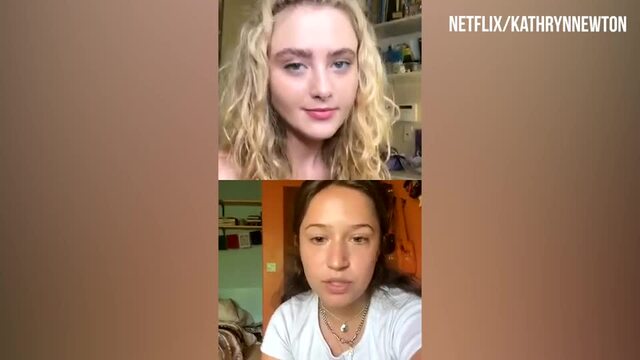 Kathryn Newton and Gideon Adlon comment on The Society being cancelled by Netflix
But who the father of Becca's newborn baby?! What is that cloud hanging over Sydney about? We demand answers!
As if 2020 hadn't already dealt us with enough blows, it's now bringing us even more bad vibes. Netflix has cancelled both The Society and I Am Not Okay With This after one just season because of coronavirus.
In case you don't know, The Society ended on a huge cliffhanger with the discovery of the real West Ham. Meanwhile, I Am Not Okay With This left off with a blood-covered Sydney (Sophia Lillis) running into the woods with a strange black cloud hanging over her, after blowing off Bradley's head. Dramatiqué.
Netflix confirmed that The Society had been renewed for a second season in July 2019, while I Am Not Okay With This had not been renewed, but fans were looking forward to seeing what would happen next.
Well, we'll never know. Sorry. Netflix made the disappointing decision to end both shows, telling Deadline in a statement: "We've made the difficult decision not to move forward with second seasons of The Society and I Am Not Okay With This.
READ MORE: The Society has been renewed for season 2 by Netflix
"We're disappointed to have to make these decisions due to circumstances created by Covid, and we are grateful to these creators, including: Jonathan Entwistle, Christy Hall, Shawn Levy, Dan Levine, Dan Cohen and Josh Barry at 21 Laps Entertainment for I Am Not Okay With This; Chris Keyser, Marc Webb and Pavlina Hatoupis for The Society; and all the writers, casts and crews who worked tirelessly to make these shows for our members around the world."
Apparently, the cancellation is because of the "uncertainty around production dates and balancing the availabilities of a large cast like The Society" combined with "unexpected budget increases due to Covid".
The Society's Kathryn Newton said she was left "heartbroken" by the news during an Instagram Live with her co-star Gideon Adlon. "This was definitely a bit of a gut punch […] We're definitely bummed about it. It's a big bummer. But this is the way things work sometimes. We have no control over it," Gideon said.
She added: "I'm sorry we left it on such a cliffhanger. We didn't want that. We've all actually been waiting to go back. We thought we were going back pretty soon, actually." Kathryn then chimed in: "Everything was written. I can't even believe that it's over."
Fans were equally devastated that the two shows would not be returning to Netflix.
n*tflix cancelled anne with an e, the society, ianowt, one day at a time, everything sucks, and atypical but they don't cancel outer banks, riverdale, and the kissing booth

— dema (@1980SHORRORF1LM) August 22, 2020
so let me get this straight, netflix gave us 3 kissing booth movies, 4 seasons of 13 reasons why but cancelled The Society and The Get Down in their second season... pic.twitter.com/uTaE7d50kC

— c (@chuuzus) August 21, 2020
NETFLIX CANCELLED THE SOCIETY??? bruh they confirmed a season 2 was coming over a YEAR ago ive been waiting forever wtf 🧘‍♀️

— nani ♡'s vi (@eveofcas) August 21, 2020
READ MORE: QUIZ: Which I Am Not Okay With This character are you?
What do you think? Tweet us @popbuzz and let us know!