Ansel Elgort's bulge is breaking the internet
31 March 2020, 17:12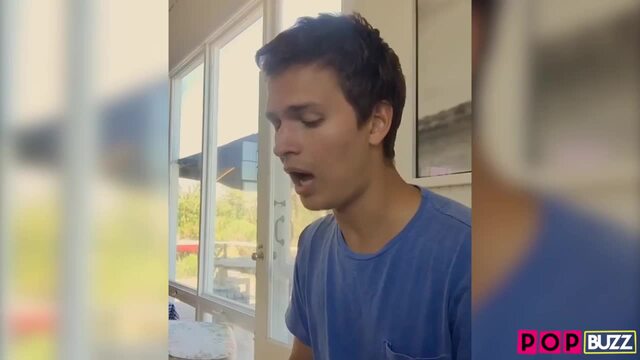 Ansel Elgort singing all your fave songs
We need to talk about Ansel Elgort.
You probably saw Ansel Elgort was trending on Twitter on Tuesday (Mar 31). The Baby Driver actor is set to star in the upcoming movie adaptation of popular Broadway musical West Side Story alongside Rachel Zegler. Erm... but Ansel's acting credits have nothing to do with why he was trending.
Basically, someone shared some paparazzi photos of Ansel taking a shirtless beach stroll in a pair of blue shorts (please have a peek here). Perfectly fine. All good. However, Ansel's loose shorts outlined his bulge and now there's much to think about it.
READ MORE: Ansel Elgort says he wants an open relationship with his girlfriend Violetta Komyshan
There wasn't just one photo, though, the Twitter account (named @anselsthirdleg. I-) actually blessed us all with an entire thread of images dedicated to Ansel's bulge. From Speedos to board shorts and even a tuxedo, yep it's right there.
As you can imagine, Ansel's bulge became a hot topic on the timeline.
The way y'all are saying Ansel Elgort is hot cus he has a big d*ck.. he's been hot and unproblematic and now this.. anywyS I'm always ahead of time period pic.twitter.com/ZQDHA3ruyS

— chris (@messwasmade) March 31, 2020
It's safe to say that lockdown has made us all extra thirsty. But, before we almost pass out from dehydration from all this thirsting, it's worth noting that Ansel is a taken man. The heartthrob has been dating ballerina Violetta Komyshan since high school.
Well, a gal can dream.