Where was Enola Holmes filmed? All the UK locations revealed
23 September 2020, 14:27 | Updated: 23 September 2020, 19:32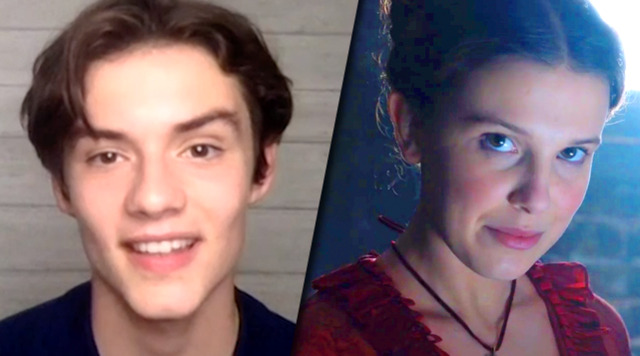 Louis Partridge teases Enola Holmes 2 with Millie Bobby Brown | PopBuzz Meets
From Benthall Hall and Hatfield House to Greenwich Naval College, here are all the locations used to bring Enola Holmes to life on screen.
Millie Bobby Brown's brand new movie, Enola Holmes, is officially here and we're already obsessed with the colourful world of the teenage sleuth.
Set in Victorian England, the film sees Enola leave her family home in search of her mother, who has disappeared. She travels to London and ends up crossing paths with a teenage runaway called Lord Tewkesbury (Louis Partridge). Enola's adventures see her travel to multiple locations, in and outside of the city. But where was it all filmed?
The film was shot in the UK, using numerous stately homes, country estates and various London locations to bring Victorian England to life. Here's all the real life places featured in Enola Holmes that you can actually visit.
Where was Enola Holmes filmed? Find all the UK filming locations below.
Enola Holmes filming locations: Where is Ferndell Hall?
Ferndell Hall, which is the Holmes family estate, was filmed in two separate locations.
The exterior is actually Benthall Hall, which is an estate in Shropshire. To bring Ferndell Hall to life, production designer Michael Carlin explained to Netflix that the actual Benthall Hall gardeners allowed "the gardens to get really overgrown and letting us drape overgrown vines all over the exterior."
The interiors of Ferndell Hall, including Eudoria's bedroom, the kitchen and the library, were filmed in West Horsley Place in East Sussex. Carlin explained that his production team were able to have free rein in the house, spending weeks bringing the Holmes matriarch's world to life.
Enola Holmes filming locations: Where did they film in London?
After escaping the train with Lord Tewkesbury, Enola finally ends up in London. And while these scenes were actually shot in the city, a little bit of not-so-secret movie magic was used to bring Victorian London to life.
Greenwich Naval College was used to welcome Enola to London. The location is a popular choice for filmmakers, with the college appearing in films like Les Miserables, Pirates of the Caribbean: On Stranger Tides, The King's Speech and Thor: The Dark World to name a few.
The production crew built shop facades on a huge set in Greenwich to achieve the vibe of a bustling city.
Standing in for the gritty East End, which is the location of Enola's backstreet fight with Linthorn, is a series of outbuildings in Luton Hoo.
Enola Holmes filming locations: Where is Basilweather House?
If you felt like this location was familiar to you, there's probably a few reasons why. The scenes that take place at Basilweather House (that's Lord Tewkesbury's family home) were filmed at Hatfield House.
Hatfield House has been used in multiple films over the years, including The Favourite. It's also the location used in Jonas Brothers' 'Sucker' video.
Other locations included in the film are: Kidderminster Railway Station, Arley Railway Station, Ashridge Estate and Shirburn Castle.