Who is Mary in Ginny & Georgia? Her real identity explained
6 January 2023, 11:40 | Updated: 9 January 2023, 12:52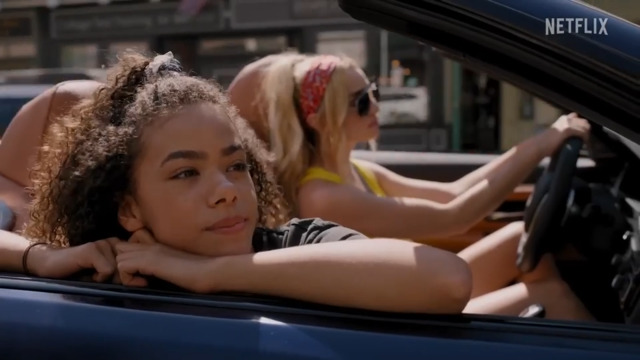 Watch Netflix's recap of Ginny & Georgia season 1
Ginny threatens Georgia with Mary in Ginny & Georgia season 2 but who is Mary?
Ginny & Georgia season 2 dives deep into Georgia's past and her many crimes including the dark secret of who Mary is.
If you've started watching Ginny & Georgia season 2, chances are you may be confused as to who Mary is. Season 2 starts with Ginny angry at her mother and living with her father. When Ginny eventually moves back in with Georgia, things still aren't good. Ginny starts acting out school and the relationship between her and Georgia is tenser than ever.
This all comes to a head in episode 3 when Ginny brings up Mary in front of Georgia and Paul. Who is Mary though?
READ MORE: Ginny & Georgia season 3: Release date, cast, possible plot and trailers
In 'What Are You Playing At Little Girl?', Ginny skips school to dye her hair. Georgia covers for her and says that Ginny had a dentist appointment. However, when Ginny gets home, Georgia confronts her and begins telling Ginny off. Ginny asks, "Are you sure you want Paul here for this?" and Georgia shuts Ginny down saying: "Paul's marrying me. He's here for all of it."
However, Ginny then threatens Georgia with her past and asks: "You sure about that? All of it?" Worried that Ginny will spill her secrets, Georgia tries to send Ginny to her room. Ginny then claps back: "Why? We're all such a happy family. You, me, Paul, Austin, Mary." Confused, Paul asks: "Who's Mary?" Terrified, Georgia runs to her car and has a panic attack.
Watching the scene you may think, 'Wait, has Georgia murdered someone else?'. However, it's actually much simpler than that. We learned who Mary was all the way back in season 1 and she's not someone who Georgia murdered or even hurt. Mary is actually someone who we've come to know very well.
Mary is, of course, Georgia's real name.
Back in season 1, Gabriel Cordova discovered Georgia's real name while investigating her. We learn that Georgia was known as Mary. We also learn that she went to prison for her involvement with a criminal biker gang. However, when Georgia made it out of prison, she relocated and changed her name from Mary to Georgia in a bid to escape her past.
Of course, Paul has no idea that Georgia used to be called Mary, let alone all the crimes she's committed. As a result, it's no wonder that Ginny bringing up Mary is a huge trigger for Georgia and scars her. You will have to watch the rest of the series to find out whether or not Georgia ever tells Paul about Mary and everything else she's done.
READ MORE: Ginny & Georgia season 2 ending explained: Who did Georgia kill?
Glass Onion Cast Take On A Chaotic Mystery Interview | PopBuzz Meets