Jack Black's 'Peaches' song from Super Mario movie hits Billboard's Hot 100
19 April 2023, 20:48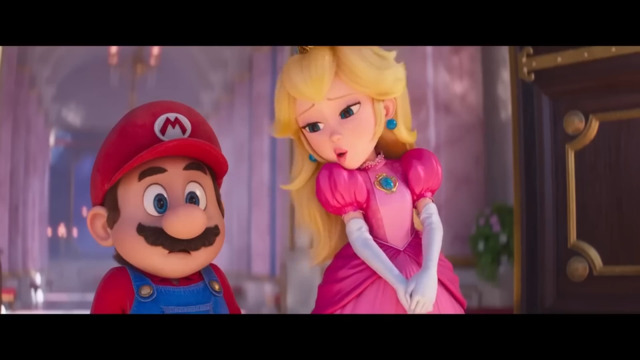 Watch the second The Super Mario Bros trailer
Peaches, Peaches, Peaches, Peaches, Peaches.
Living legend Jack Black has officially earned his first solo Billboard Hot 100 song with 'Peaches' from The Super Mario Bros. Movie.
Jack voices Bowser in the new movie, which has already broken the record for the biggest worldwide opening of all time for an animated movie and highest grossing video game adaptation of all time.
In the film, Bowser seeks to marry Princess Peach (Anya Taylor-Joy) and will destroy the Mushroom Kingdom is she refuses. As an ode to his love for her, he has his own little musical interlude where he performs the ballad, 'Peaches' – and the song is unbelievably catchy.
In fact, it's catchy enough that people can't stop streaming it. 'Peaches' has now debuted at No. 83 on the Billboard 100 chart.
READ MORE: Jack Black wants Pedro Pascal to voice Wario in the Super Mario Bros. sequel
In its first week, 'Peaches' has had around 5.8 million U.S. streams and 6,000 downloads, according to Luminate. Billboard also reports that the track has also debuted at No. 6 on Digital Song Sales.
As well as the scene from The Super Mario Bros. Movie, Jack himself has also recorded a lyric video with Lyrical Lemonade where he sits at the piano in a Bowser-themed suit to serenade Peach once again. As time of writing, that has had around 17 million views.
The official music video, posted on YouTube by Illumination, has had over 12 million views in eight days.
Jack Black - Peaches (Directed by Cole Bennett) The Super Mario Bros. Movie
While it's Jack's first solo appearance on the Hot 100, it's not his first ever appearance. Back in 2006, Tenacious D peaked at 78 on the chart with 'The Pick of Destiny'. Along with Kyle Gass, the duo also had four albums that charted within the Billboard 200.
Only time will tell if Bowser's 'Peaches' manages to surpass 'The Pick of Destiny's chart placement. Given the overwhelming success of The Super Mario Bros. Movie, it probably will!
Sabrina Carpenter Breaks Down Her Favourite Lyrics | PopBuzz Meets