LGBTQ+ Glee fans share how Naya Rivera helped them find acceptance
14 July 2020, 12:37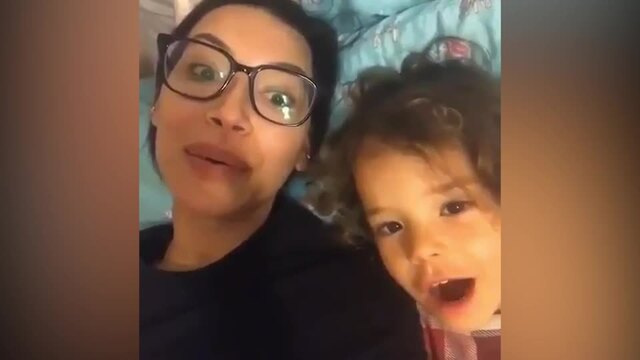 Amber Riley shares heartbreaking video of Naya Rivera singing with son Josey
The LGBTQ+ community are saying thank you to Naya Rivera for her work as Santana on Glee, who spent a lot of the series figuring out her own sexuality. Naya's body was found at Lake Piru after a five-day search.
Following the tragic news of Naya Rivera's death, fans and co-stars have been coming out to pay tribute – and the LGBTQ+ community, in particular, are paying thanks in their own special way. During her time on Glee, Naya played the role of Santana Lopez, an initally-closeted teen that struggled to deal with developing feelings for her best friend Brittany (Heather Morris).
For many LGTBQ+ people, and lesbians in particular, it was the first time they'd seen themselves represented on mainstream TV, and helped so many of them come to terms with their own feelings, and decide how they wanted to share them.
During Glee's long-spanning run, we also watched Santana come out to her Grandmother, where she was met with hostility and rejection, a reaction that is unfortunately still so prominent for teens today, especially for those of cultural backgrounds that don't traditionally accept the idea.
READ MORE: Glee cast lead tributes to Naya Rivera following her death
Paying their respects to Naya's work on the show, people who grew up watching Glee have been posting on Twitter about their own experiences, how the actress made them feel more "normal", and gave them acceptance, even when others didn't.
Writer Jill Gutowitz lead the way, saying: "I'm so saddened and disturbed by the news of Naya Rivera. Naya meant so much to so many queer women my age. Her character on Glee awakened a generation repressed. Thank you, Naya."
But she also gave us SO MUCH MORE and delivered, in my eyes, the finest performance of the series. As her character came to terms with her sexuality, Naya beautifully revealed that Santana could be vulnerable without giving up any of her power.

— Cole Delbyck (@coledelbyck) July 9, 2020
I hope Naya knew she made such a huge impact on the LGBTQ community. I'll forever thank her for that

— dai (@vietbaddie) July 13, 2020
Can't describe how sad I am over this:( RIP Naya you created such a safe place for so many LGBTQ teens on glee ❤️ I hope your peaceful queen x pic.twitter.com/MTA0rS70yj

— M x (@thefunnyhun) July 13, 2020
naya literally shaped an entire generation of lgbt youth and her impact on the community will never ever be forgotten

— ci ミ☆ (@snowsagron) July 13, 2020
I hope Naya knows how many lives she's touched and how many queer women she has helped along the way. She was such a light in my life growing up and I always wished one day I would be able to thank her in person. My heart goes out to Josey and her entire family today & always ♥️ pic.twitter.com/GdGINs3GV8

— sarah ミ☆ (@heavenIydreamer) July 13, 2020
naya rivera's performance as santana helped me feel okay with loving girls. that's all I want to say about it. please don't comment on the tweet, I don't want to engage with this further.

— jourdain (@jourdayen) July 13, 2020
Thank you to naya rivera for being the first female poc who struggles with sexuality that I ever saw on screen. I am beyond heartbroken on the news due to the fact that she literally changed my life and gave me hope as a young poc closeted lesbian. Rest in peace angel ❤️ pic.twitter.com/Owlruota88

— nadia ツ (@fineIinelesbian) July 13, 2020
Naya Rivera changed my life with her character "Santana" in Glee. As a Latina who's part of the LGBTQ+ community, I've always been inspired by her character and forever will. Thank you Naya, you changed my life. 🧡 pic.twitter.com/uAD4gIKwVb

— isabella (@isabella_alvrzz) July 13, 2020
Back in 2017, Naya wrote a love letter to the LGBTQ+ community for Billboard, saying, "I have been so incredibly fortunate to portray a character on television that has meant so much to so many within the LGBTQ community. Off screen, I am a woman who stands in support of equal rights for all. It has been one of the great blessings in my life to receive such love and touching stories as a result of my portrayal of Santana Lopez in Glee."
Naya initially went missing following a suspected accident at Lake Piru, California, after she hired a boat with her four-year-old son, Josey. The pair allegedly went swimming together, before Josey was boosted back onto the boat by Naya, but when he looked back, she had disappeared beneath the water.
Co-stars including Kevin McHale and Lea Michele have since paid tribute to the 33-year-old, citing that she was "stupidly talented, the most fun" and someone who could "turn a bad day into a great day".
Rest in peace, Naya.