The Little Mermaid's Halle Bailey shares emotional response to young Black girls watching the trailer
13 September 2022, 17:49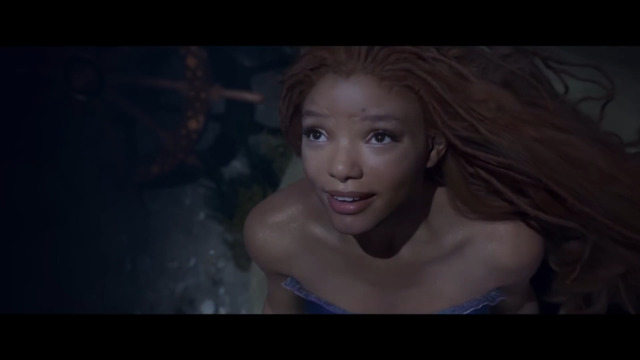 Watch Disney's live-action Little Mermaid teaser trailer
Videos of young Black girls finding out that Ariel is Black have gone viral on social media.
Disney fans have finally seen the first teaser trailer for the new The Little Mermaid film - and it's proving why representation matters.
Halle Bailey, 22, is best known as one half of music duo Chloe x Halle and for playing Sky on Grown-ish, but she stars as the lead role of Ariel in Disney's live-action remake of The Little Mermaid.
Fans finally got their first glimpse of Halle in the role this week with a teaser trailer that shows her perform 'Part Of Your World,' which was originally sung by Jodi Benson in the 1989 animated film.
Videos of children, particularly Black girls, reacting to the trailer have been going viral online and Halle has posted how "in awe" she is after watching the reaction to her starring in the role.
READ MORE: Never Have I Ever's Maitryei Ramakrishnan wants to play Rapunzel in Disney's live-action Tangled
Sharing a compilation of the videos, Halle wrote: "people have been sending these reactions to me all weekend and i'm in truly in awe, seeing these little babies reactions makes me so emotional, this means the world to me, thank you all for your unwavering support".
The clips show the girls' faces lighting up as they watch the trailer, with one excitedly telling her mum: "she's brown like me!"
Replying to Halle's post, Halle's sister Chlöe wrote: "you make us so proud to be in the skin that we're in!!!!"
Another follower added: "She's brown like me mommy"! this made my heart melt we are beautiful too".
A third person wrote : "YESSSSSSS representation matters".
Speaking to Variety about why she took on the role of Ariel, Halle said: "I want the little girl in me and the little girls just like me who are watching to know that they're special, and that they should be a princess in every single way. There's no reason that they shouldn't be. That reassurance was something that I needed."
Jodi Benson, who voiced Ariel in the original Disney film, has also spoken out in support of Halle in the role. Speaking to ComicBook.com, she said: "I think that the spirit of a character is what really matters.
"And the outside package – cause let's face it, I'm really, really old – and so when I'm singing 'Part of Your World', if you were to judge me on the way that I look on the outside, it might change the way that you interpret the song. But if you close your eyes, you can still hear the spirit of Ariel. We need to be storytellers.
"And no matter what we look like on the outside, no matter our race, our nation, the colour of our skin, our dialect, whether I'm tall or thin, whether I'm overweight or underweight, or my hair is whatever colour, we really need to tell the story."
The Little Mermaid is set for release in cinemas worldwide on 26 May 2023.
READ MORE: Bridgerton's Simone Ashley is set to appear in Disney's live-action The Little Mermaid
Rina Sawayama Reacts To "Industry Plant" Rumour and Paints A Self-Portrait | PopBuzz Meets