A Titanic submarine documentary is airing today and it's already getting backlash
22 June 2023, 11:38 | Updated: 22 June 2023, 12:27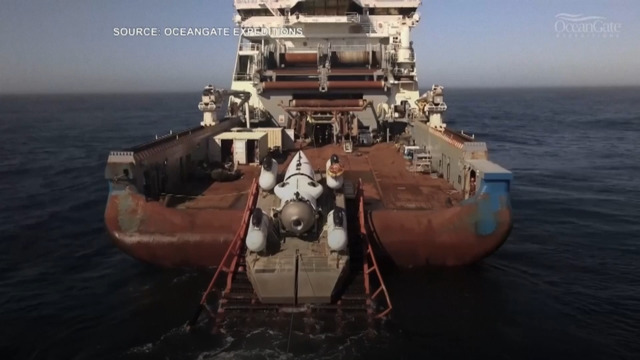 Search continues for Titanic tourist submarine missing in Atlantic
Titanic Sub: Lost at Sea is set to air tonight on Channel 5 in the UK even though Titan and its passengers are still missing.
Channel 5 are coming under fire after announcing that they are airing a new documentary about the Titan submarine tonight.
On Sunday (Jun 18), reports emerged that a tourist submarine named Titan had gone missing. For $250,000 a ticket, the sub takes people to see the wreckage of the Titanic in person. Shortly into Titan's dive on Sunday, communication with the sub was lost. It's since been reported that five people are on board and all their breathable air will run out today (Jun 22).
Now, Channel 5 in the UK have revealed that they are broadcasting a documentary about the incident in a matter of hours.
READ MORE: Cardi B slams stepson of Titanic submarine billionaire for going to a Blink-182 concert
Yesterday (Jun 21), Variety reported that Channel 5 have made a new fast-turnaround documentary about the missing Titan submarine. Titanic Sub: Lost at Sea is scheduled to air today (Jun 22) at 7 PM local time. Presented by Channel 5's own news host Dan Walker, the one hour special will "go beyond news coverage and bring viewers up to date".
According to Variety, Titanic Sub: Lost at Sea will examine "the wider context about the voyage, its passengers and the fascination with the Titanic shipwreck The film will also talk to experts and look at the rise of extreme tourism."
Following the news, people have taken to social media to express their confusion as to why a documentary has been put together before the sub has even been found. One person tweeted: "COULDNT THEY AT LEAST WAIT FOR A FEW MONTHS????? THIS FUCKING THURSDAY?????".
Another wrote: "capitalizing on this shit the day they run out of air is insane".
capitalizing on this shit the day they run out of air is insane 😭

— Taylor 🍇 (@CupOfAdelaide) June 21, 2023
😭they so quick with it. i won't be watching.

— 𝕊𝕒🅱️𝕣𝕚𝕟𝕒 𝕄𝕚𝕟𝕒𝕛 𝕋𝕒𝕟𝕠 💌 (@PlayBoiBarb) June 21, 2023
feels slimy to me how fast they've decided to get this out.

they're literally still searching for it.

— Alexis Kraft (@TheAlexisKraft) June 21, 2023
As it stands, Channel 5 are yet to address the backlash. However, they've renamed the documentary Live: Titanic Sub: Lost at Sea. They've also officially reframed the film as a "special live report".
Niall Horan Breaks Down Every Song On 'The Show' | Making The Album