Bella Poarch opens up about being sexually assaulted in the military
12 October 2023, 15:40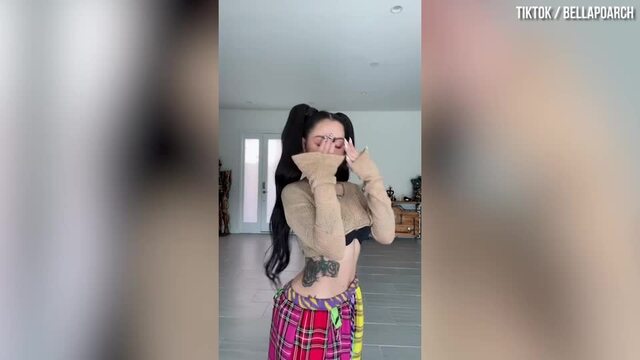 Bella Poarch shows off tattoo on TikTok
Bella Poarch spoke candidly about the experience on a new episode of Call Her Daddy.
CONTENT WARNING: This article contains details of sexual assault that some readers may find triggering and disturbing.
Bella Poarch has opened up about being sexually assaulted at the age of 18 and how it affected her time in the US military.
Before rising to fame on TikTok, Bella Poarch was a member of the US Navy. She enlisted in 2015 and, during that time, she was stationed in Japan. Speaking of her time in the Navy, Bella told Vogue: "The Navy taught me one thing: that you can't do everything on your own – you have to have a great family of people around you to trust and achieve great things."
Now, Bella has spoken more frankly about being in the Navy and how she was sexually assaulted by someone she knew.
READ MORE: Bella Poarch cut James Charles from her Build a Bitch video
Speaking to Alex Cooper on Call Her Daddy, Bella explained that experience took place while she was in the US Navy. Bella said: "I've never opened up about this but something really fucked up happened to me in the military." Bella then started to tear up and said: "Sorry I'm getting emotional. So my first year in the military, I got sexually assaulted. I was 18."
Discussing when it happened, Bella continued: "I was a motivated sailor. I was studying really hard and I wanted to pick up ranks so that I could make more money and then yeah that happened. At first, I didn't want to speak up about it but the women that I was surrounded with, they kind of like, they knew something was wrong."
She added: "It was someone that I knew. I showed up to work and they were like, 'Why do you have so many cuts on your face? Why do you have bruises on your neck? What's going on? I just started crying. I didn't know if I wanted to say what really happened because I didn't want anything to change."
Bella Poarch Opens Up About Her Secret Marriage and Divorce
Pausing to cry, Bella said that she was "very grateful" that she was surrounded by people who care about her and that they forced her to get a rape kit and report it. She explained: "I was just like, 'I don't want to'. But they were like, 'You have to. This person can't keep doing that. What if he does that to another girl?'"
Bella said that the reporting process was really difficult: "I went to go get [the rape kit] and it was a long process, a lot of interrogation. It was like I was a suspect and they were interviewing me and they were like, 'Oh, did this really happen?' When obviously, they see the physical."
She ended by saying: "We went on court and he got four years. That's it."
If you - or anyone you know - needs help, please contact the following:If you're in the US, the National Sexual Assault Hotline is available 24/7 at 800-656-HOPE and you can also visit RAINN. If you're in the UK, you can visit Rape Crisis or call 0808 802 9999.
Kylie Minogue vs. 'The Most Impossible Kylie Quiz' | PopBuzz Meets