Millie Bobby Brown deletes TikTok account following troll comments
30 November 2020, 12:09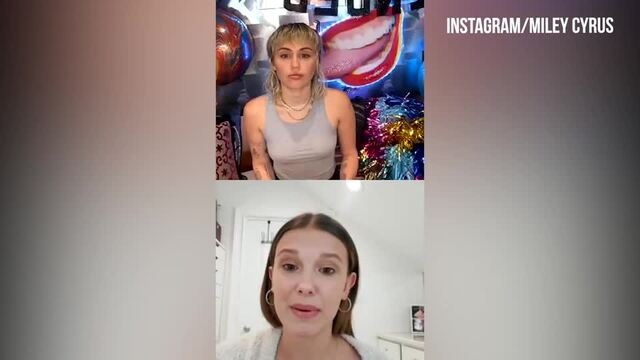 Millie Bobby Brown opens up about panic attacks and her therapy dog with Miley Cyrus
Millie also posted on Instagram saying: "Realising that surrounding yourself with positivity is the happiest way of living!"
If you logged on to TikTok today to get your daily dose of positivity courtesy of Millie Bobby Brown, you might have noticed that her account has disappeared. Yep, Millie Bobby Brown has deleted her entire TikTok account.
The Stranger Things and Enola Holmes superstar has a huge online following and had amassed around 16.2 million followers on the social media platform. However, shortly after posting a new video to her account a few days ago, fans noticed that it has been completely deleted from TikTok.
READ MORE: Millie Bobby Brown adopted a therapy dog after online comments caused bad panic attacks
Why did Millie Bobby Brown delete TikTok?
It's not clear why Millie decided to delete her TikTok account, although some users are claiming it's because trolls had flooded her comment section with resurfaced references to the offensive, homophobic memes that caused her to delete Twitter back in 2018.
Some Twitter users are also tweeting that people were, for some reason, trolling Millie for using an Android phone. In case you didn't know, Millie has a multi-million dollar deal with Samsung Galaxy.
Shortly after deleting her TikTok account, Millie posted a short message on Instagram to her fans, saying: "Realising that surrounding yourself with positivity is the happiest way of living! No hate & only love. Remember to be kind... THANK YOU X"
As previously mentioned, this is unfortunately not the first time Millie has decided to delete one of her social media platforms. Back in 2018, Millie (who was 14 years old at the time) deleted her official Twitter account after memes began circulating that falsely claimed she was homophobic.
Earlier this year, ahead of her 16th birthday in February, Millie also opened up on Instagram about how "the last few years haven't been easy" because of the "inaccuracy, inappropriate comments, sexualization, and unnecessary insults that ultimately have resulted in pain and insecurity for me."
Ending on a positive note, Millie said: "but not ever will i be defeated. ill continue doing what i love and spreading the message in order to make change."
READ MORE: Millie Bobby Brown says she felt "scared and helpless" after being bullied online