Sumner Stroh apologises to Adam Levine's wife Behati Prinsloo after "affair" claims
21 September 2022, 12:04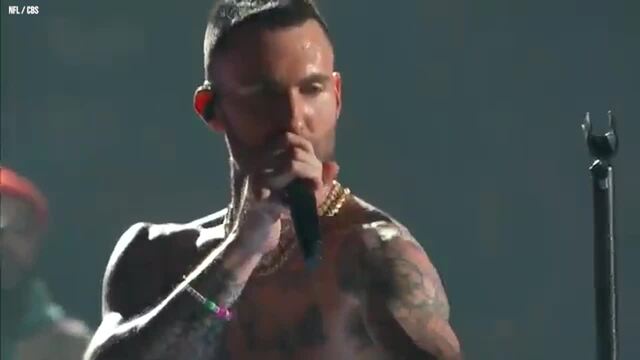 Adam Levine gets shirtless during the Super Bowl halftime show
"I'm not the one who's really getting hurt here. It's Behati and her children and for that I'm so so sorry."
Instagram model Sumner Stroh has now issued an apology to Behati Prinsloo following her viral video claiming she "had an affair" with Behati's husband and Maroon 5 frontman Adam Levine.
On Monday (Sept 20), Sumner alleged that she and Adam Levine had been "seeing each other for about a year", while he was still married to Victoria's Secret model Behati. In the video, Sumner shared screenshots of DMs between her and Adam, including one in which he said that he wanted to name his next child Sumner – the same as hers.
Sumner's initial TikTok video that showed the messages between her and Adam has now been viewed 20.3 million times, and has 1.4 million likes on the platform.
Yesterday, Adam himself responded to those allegations with an Instagram Story statement, reading: "A lot is being said about me right now and I want to clear the air. I used poor judgment in speaking with anyone other than my wife in ANY kind of flirtatious manner."
"I did not have an affair, nevertheless, I crossed the line during a regrettable period in my life."
In a new TikTok video shared to her profile shortly after Adam released his statement, Sumner apologised to Behati following her first Instagram video.
Responding to a comment that says, "It's no secret he been married for a while. The only victim here is his wife and children," Stroh explained what she thought at the time.
Addressing the whole situation, Sumner said that she originally wanted to talk about how 'remorseful, embarrassed and disgusted' she feels at herself, but "didn't want people to look at it and think like, 'Oh, she's playing the victim'." She agreed it had the opposite effect.
Sumner then went on to address some of the criticisms that had been thrown her way since she shared the first TikTok video featuring her DM conversations with Adam.
"I only came forward because I wanted to kill whatever story the tabloid had," she explained. "The most important part that I did definitely gloss over is the fact that I was under the impression that their marriage was over. I believe that they were keeping it quiet to avoid the negative press because as I had said, I was new to LA. So I just assumed that with celebrities of that caliber, that that's just how it was."
Explaining why she felt "exploited" and "manipulated," Sumner adds: "Because of my vulnerable position of being new to LA. Also, he was DMing me straight from his verified Instagram account. I didn't have any reason to further question it. But I now realise that that was likely a manipulation tactic of his, you know, just hiding in plain sight. As soon as I had realised that was not the case, I had cut things off with him."
Sumner ends the videos by saying that she wishes she "would have questioned things more" and that she "wasn't so naïve".
"Being naive is not an excuse for what I did in the role I played in this. Again, in no way was I trying to gain sympathy. And I fully realised I'm not the victim in this. I'm not the one who's really getting hurt here. It's Behati and her children and for that I'm so so sorry."
READ MORE: Adam Levine releases statement amid claims he cheated on wife with Sumner Stroh
READ MORE: Maroon 5's Adam Levine criticised for saying "there aren't any bands anymore"
Rina Sawayama Reacts To "Industry Plant" Rumour and Paints A Self-Portrait | PopBuzz Meets