Jeffree Star's new boyfriend revealed as basketball player Andre Marhold
25 August 2020, 09:19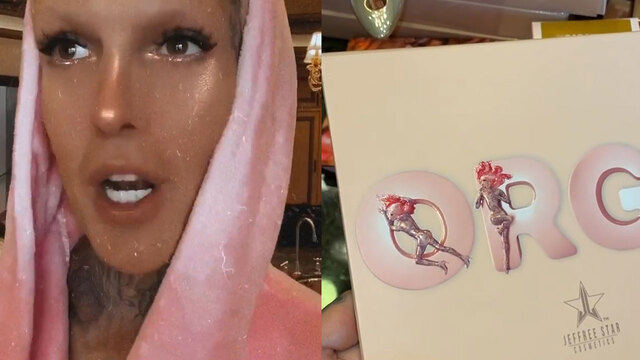 Jeffree Star announces new nude Orgy eyeshadow palette
Jeffree Star has got himself a new boyfriend just five months after his split from Nathan Schwandt, and has teased him on Instagram for fans with a cryptic picture. Andre Marhold is a basketball player and CEO from Atlanta.
Five months after his split from Nathan Schwandt, YouTube beauty mogul Jeffree Star has finally teased the new man in his life, and he's been identified as Andre Marhold.
Before dropping super-cute pics of the pair, there had been a lot of speculation as to who Jeffree's new bae could be, after he dropped a YouTube video on a 'first date' with actor Jozea Rosé, who did his makeup while they hung out.
However, this weekend Jeffree dropped a cryptic Instagram picture suggesting that he'd gone official with the man in question, but as his identity was covered, it was up to fans to do the research as to who it may be.
READ MORE: Jeffree Star criticised over "inappropriate" name of new Orgy palette
"Thankful for all the blessings God has brought into my life this year," Jeffree captioned the photo, in which he's sprawled over his new muscular, tattooed man's lap, as his body hides his identity.
Unfortunately for those gunning for Jozea, he was quickly ruled out, as the 28-year-old doesn't have any tattoos on his arms.
Fans also wondered if a romance had been ignited with RuPaul's Drag Race judge and dance coach Todrick Hall, who does have plenty of ink on his arms. However, upon closer inspection, they don't match up.
Who is Jeffree Star's boyfriend?
While there was originally no confirmation on his identity, the internet is thankfully full of top-level sleuths, and noticed certain details from the photo that could have matched the tattoos to a person.
If you notice at the top of the man's arm in the photo, there's an inking of a basketball. The man is also super-muscular in build, suggesting that it could be someone that plays a lot of sports.
Before Jeffree even had chance to announce the name of his boyfriend, fans had cracked the code, and revealed his identity as basketball player Andre Marhold.
The 6 ft 6 player's tattoos seemingly match perfectly to the man in the photo, who now describes himself as the 'CEO' of a talent agency in Atlanta.
Neither Jeffree or Andre follow each other on social media, and the 30-year-old has now set his account to private after Jeffree's fans began following him.
However, given Jeffree's recent scandal involving racism and the use of derogatory terms in his past, fans aren't convinced that his relationship is genuine, and could be a way to cover up his wrongdoings.
"He's gonna justify his actions by saying "dw guys i'm NOT racist my boyfriend is BLACK," one user commented. Another added: "Not Jeffree Star the infamous racist now conveniently having a black boyfriend now that he's being cancelled for his racism. Are your palettes not selling bb?"
Either way, it seems like he's trying to keep this relationship more on the down-low than his last, when he publicly split with long-term boyfriend Nathan, citing that they will be "friends forever", and "I will always have love for him."