Billie Eilish agrees with Tyler, the Creator's criticism of Grammy award categories
9 June 2020, 14:20 | Updated: 9 June 2020, 16:16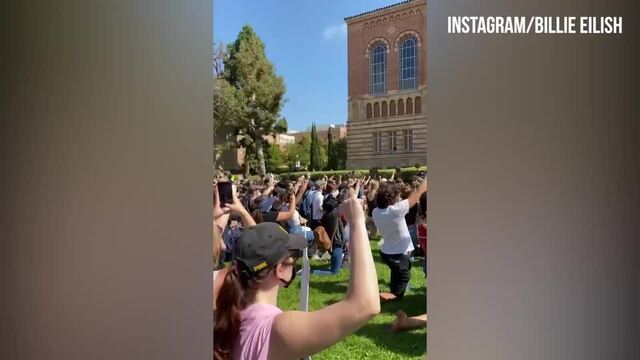 Billie Eilish attends Black Lives Matter protest in LA
"It was such a cool thing Tyler said. I agree with him about that term. Don't judge an artist off the way someone looks or the way someone dresses."
Billie Eilish is calling out and criticising the double standards in the music industry, and at the Grammys, when it comes to nominating artists in certain genres, based on their race and aesthetic.
Back in January, Billie picked up five Grammys and swept the Big Four categories.
She has spoken candidly about her feelings surrounding her recent Grammy wins before and now, in a recent interview with British GQ, she is echoing Tyler, the Creator's speech about the problematic way in which the Grammys categorise Black artists.
READ MORE: Billie Eilish tells white people who say 'all lives matter' to "shut the f**k up"
Back in January, Tyler, the Creator picked up a Grammy for Best Rap Album (for IGOR) and in his speech backstage in the press room, he criticised the Recording Academy when it comes to their use of the word "urban" in the categories:
"On one side I'm very grateful that what I made could be acknowledged in a world like this, but also it sucks that whenever "we" – and I mean guys that look like me – do anything that's genre-bending or that's anything, they always put it in a rap or "urban" category," he said, "which is – and I don't like that "urban" word, it's just a politically correct way to say the 'N-word' to me."
"So when I hear that I'm just like, 'why can't we just be in pop' you know what I mean?"
Recently, Republic Records announced that that it will immediately drop the term "urban" to describe music made by Black artists and is urging the rest of the music industry to follow suit.
Tyler, The Creator TV/Radio Room Interview | 2020 GRAMMYs
Speaking with British GQ, Billie agreed with Tyler, saying: "I have always hated categories. I hate when people say, 'Oh, you look like 'blank.' You sound like 'blank.' It was such a cool thing Tyler said. I agree with him about that term. Don't judge an artist off the way someone looks or the way someone dresses. Wasn't Lizzo in the Best R&B category that night? I mean, she's more pop than I am."
"Look, if I wasn't white I would probably be in 'rap'," Billie continued. "Why? They just judge from what you look like and what they know. I think that is weird. The world wants to put you into a box; I've had it my whole career. Just because I am a white teenage female I am pop. Where am I pop? What part of my music sounds like pop?"
BuzzFeed and Bustle also report that Billie somewhat agrees with the sentiment of why people say she only won her Grammys because she's white: "Then there's the other side of this whole thing: people shitting on me because I am white. 'Oh, she's white, that's why she won.' You know what? I agree with the sentiment; I get why people say that."
Last week, Billie took to social media to call out white people who voiced their 'all lives matter' opinions following Black Lives Matter protests and the murder of George Floyd.
She wrote: "The slogan #BlackLivesMatter does not mean other lives don't. It's calling attention to the fact that society clearly thinks black lives don't f—ing matter. And they f—ing do!!!! It means black. lives. f—ing. matter."
You can read her full Instagram post here.