Harry Styles just got a moustache and the entire internet is living for it
20 July 2020, 11:33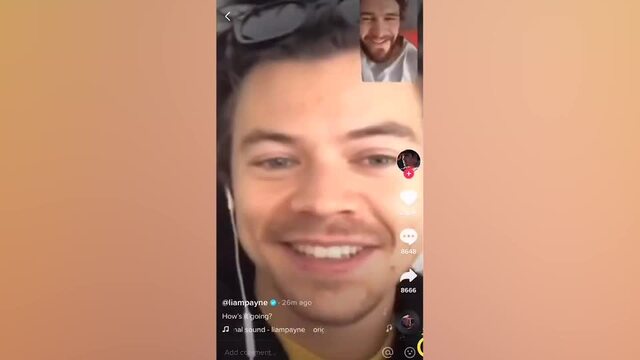 Liam Payne "calls" Harry Styles over FaceTime in new TikTok
It's official. Harry Styles has a moustache and we can't stop staring at it.
Harry Styles fans assemble. We have some very important news to report. The 26-year-old is now rocking a new moustache.
It goes without saying that Harry Styles is a style icon. Not only is style literally in his name, but he's also been showing male popstars how it's done ever since One Direction first formed in 2010. Floral suits? Mesh shirts? Pearls for days? Harry has a wardrobe to die for. In fact, his clothes are so popular that one of his rainbow cardigans has inspired its own TikTok trend.
READ MORE: QUIZ: Would Harry Styles date you?
Harry is also well known for his different hairstyles and the beloved popstar now lays claim to a very fetching moustache.
Harry Styles is in Italy at the moment. The 'Watermelon Sugar' singer has been spotted hanging out in multiple, iconic Italian locations recently, and this past weekend (Jul 18), he visited popular Italian chef Massimo Bottura. To celebrate the occasion, Massimo posted a photo of them together on Instagram Stories and fans were quick to notice a moustache.
Yes. Harry Styles currently has a moustache and the entire internet is losing it. One fan tweeted: "can u believe harry styles just invented the mustache" [sic]. Another added: "I still can't get over the fact that Harry grew a whole moustache... This era keeps getting better and better".
Others are speculating that Harry is in Italy for a new Gucci campaign shoot.
if you don't like harry's mustache, keep that to yourself. shit's embarrassing

— madelyn (@madelynnnnnnw) July 17, 2020
so you're telling me that harry might be in italy for another GUCCI PHOTOSHOOT WITH HIS MUSTACHE?? my heart cannot handle

— Ornella (@hsftheaven) July 17, 2020
This is now a Harry Styles moustache stan account.