Stevie Nicks wants Harry Styles to star in a TV series inspired by Rhiannon
2 October 2020, 11:44 | Updated: 2 October 2020, 11:46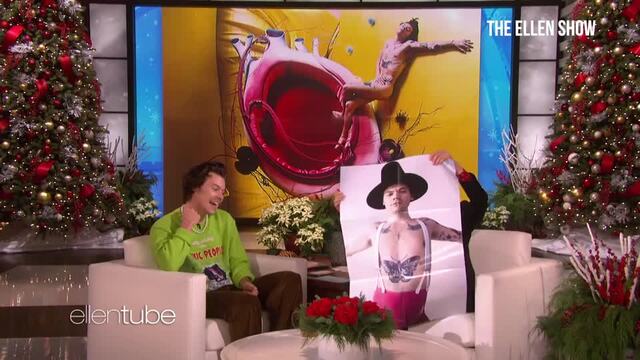 Harry Styles reveals why he got naked for his Fine Line album art
Harry is "definitely in the running" for a role according to the Fleetwood Mac icon.
Harry Styles and Stevie Nicks have one of the cutest celebrity friendships out there and it turns out they might be working on a new TV project together, at least if Stevie gets her way.
Not content with being one of the most successful solo artists on the planet, Harry has been increasingly involving with acting projects in recent years. Harry wowed fans and critics alike with his performance in 2017's Second World War epic Dunkirk, and has since been cast in Don't Worry, Darling and is rumoured to be in final negotiations to play the lead (and queer) character in Amazon's film adaptation of My Policeman.
Now Stevie might have a new role for Harry which is loosely connected with her iconic song 'Rhiannon'.
READ MORE: Harry Styles addresses theory that Watermelon Sugar is about oral sex
Stevie wrote 'Rhiannon' with her band Fleetwood Mac back in 1973 but she claims she didn't have much knowledge of the folklore behind the mythical queen from Welsh folklore that inspired the song's title.
It wasn't until a fan sent her the adaptations by Evangeline Walton that she learned more and because so obsessed with Walton's books that she bought the film rights to the story.
Now Stevie has signed a deal with a studio to make the story into a television miniseries and she has already written and recorded 10 songs (which she keeps on cassette in a suitcase) specifically for the project.
While Stevie isn't interested in a role for herself, she told the LA Times in a recent interview that Harry "is definitely in the running."
"I'm going, 'Harry, you cannot age one day. You have to stay exactly as you are,'" she joked, before adding, "I've already sold him on it."
Elsewhere in the interview, Stevie reflected on Harry's career, commenting that when Harry debuted Fine Line at the Forum late last year, he invited Nicks to join him on stage for a rendition of 'Landslide', which she said was, "a huge thrill, because he made a choice to be a rock 'n' roll star and not a pop star."
"That was a risk for a guy from a boy band. That was like Fleetwood Mac doing 'Tusk' after 'Rumours.' I was very proud of him."
Legends supporting legends. We love to see it.