Harry Styles fans call out MTV over VMAs nomination 'snub'
31 July 2020, 11:26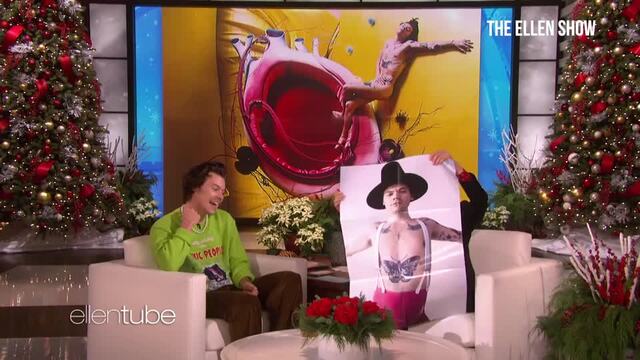 Harry Styles reveals why he got naked for his Fine Line album art
Hazza received three nominations in technical categories but missed out on Artist of the Year and Best Pop.
Harry Styles fans are calling out MTV after they failed to nominate Harry in any of the main categories at the VMA 2020 awards, which were announced yesterday (July 30)
Instead, Harry received three nominations in the technical categories; Best Direction, Best Art Direction and Best Visual Effects.
Since the release of his best-selling second album Fine Line at the end of 2019, Harold has been keeping his fans well fed with some incredible music videos, which makes the decision to not recognise his achievements even more bizarre. See the full list of nominations here.
READ MORE: Harry Styles just got a moustache and the entire internet is living for it
Harry has been widely praised for his stunning visuals and playful storytelling during the Fine Line era.
'Adore You' is clear a stand out. In the video, which is more like a short film, Harry makes friends with a fish on the mythical Isle of Eroda. It's a strange and unusual choice of video for an artist of Harry's stature, but also charming and uplifting too. Then there was the bisexual orgy for 'Lights Up', which was one of the most talked about videos of 2019.
Most recently, Harry served us '70s summer bliss in 'Watermelon Sugar', which was filmed on the same beach as One Direction's 'What Makes You Beautiful' was filmed nine years ago in 2011.
Clearly that was not enough for MTV. In the Best Pop categories, Harry lost out to BTS - 'On', Halsey - 'You Should Be Sad', Jonas Brothers - 'What a Man Gotta Do', Justin Bieber ft. Quavo - 'Intentions', Lady Gaga with Ariana Grande - 'Rain on Me' and Taylor Swift - 'Lover'.
While in the Artist of the Year category, DaBaby, Justin Bieber, Lady Gaga, Megan Thee Stallion, Post Malone & The Weeknd all secured nominations ahead of Harry.
Harry's fans did not hold back on Twitter when the nominations were announced.
harry styles should have got an artist of the year vma nom and he also should have won, he has run an immaculate ship on this album!!!!!!!!

— G (@oneofthosefaces) July 30, 2020
harry styles deserved artist of the year, video of the year and best pop

— folklore pam (@shesgoldhs) July 30, 2020
harry styles: creates a fake island and website where he gives his fans compliments, makes a stunning mv for adore you and falling, and lyrically and musically has the best album overall.

VMAs: nah.

— rachel🦋 (@canyonmoonblu) July 30, 2020
WHY is JUSTIN nominated for artist of the year and not Harry ? Let's wake that UP ! Who has been charting for like 35 weeks ? Where is the adore you song of the year nom ? Where is the video nom ? I'm sick to my stomach why do they hate him

— Mo (@hsIotkissy) July 30, 2020
there's something we all need to talk about. harry styles is constantly portrayed as one of the best artists from our generation, is often compared to musical legends, everyone in the industry praises him, as they should, but when it's time to reward him he is STILL to this day +

— ju (@finelineslou) July 30, 2020
fine line, an album that's gathered more than TWO BILLION streams on spotify, has upheld it's stability on various charts for 7+ months after it's release as yet, harry himself is the 20th most listened to artist in the world yet award shows like vmas refuses to give him an award

— nan loves shreya (@kissysvogue) July 30, 2020
Which categories do you think Harry should have been nominated in?