My Chemical Romance are releasing a makeup collection
9 December 2020, 22:31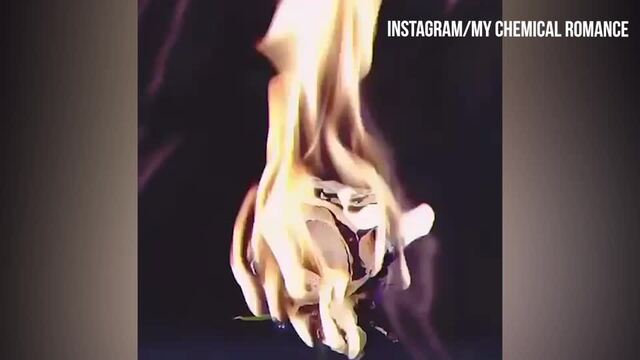 My Chemical Romance share mystery teaser on Instagram
MCR shared the same teaser video as HipDot Cosmetics and now fans think an eyeshadow palette is dropping.
My Chemical Romance just started teasing something exciting on social media and fans have already managed to sleuth out what it is.
Yesterday (Dec 8), the official MCR social media accounts shared a video of a burning rose, set to Three Cheers For Sweet Revenge's 'Give 'Em Hell, Kid'. At first, fans speculated about what the teaser could mean... Could it be new music? Could be another tour announcement? New dates, maybe? Not quite...
MCR are officially teaming up with HipDot Cosmetics to release a makeup collection that includes an eyeshadow palette, brushes and of course, eyeliner.
READ MORE: Gerard Way posts cryptic image sending My Chemical Romance fans into meltdown
After MCR shared the teaser clip on December 8th with the caption, "Eyes", fans noticed that HipDot Cosmetics shared the exact same video on their social media accounts too. The brand's Instagram account also shared an Emo Challenge video, set to 'Welcome To The Black Parade'.
There's also a story highlight on the HipDot Instagram account called 'MCR', which includes a video titled 'Coming Soon' as well as a glimpse of a pin that looks like it could be included in the collection.
The collection was later revealed on Instagram by DupeThat and it will include a 9-shade eyeshadow palette ($24), a duel ended eyeliner ($12) and a dual ended brush ($12). Fans can pick up the set, which includes a band pin, for $64.
The palette shade names, for those who are wondering, are: Saints Protect Her, Pitchfork Red, Serpent Son, Starless Eyes, Shotgun Sinners, All The Ghosts, Mausoleum Door, Flock of Doves, Explosive Light.
The collection will be released on December 10th at 12 noon PST on hipdot.com.
Eyeliners at the ready!