Taylor Swift confirms Joe Alwyn is Folklore writer William Bowery
25 November 2020, 09:56 | Updated: 25 November 2020, 12:30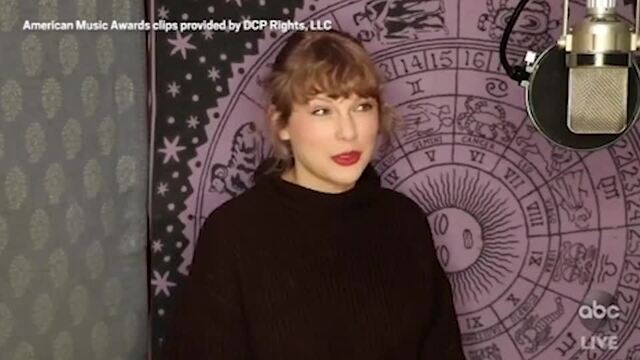 Taylor Swift confirms she's recording all her old music again in AMAs speech
Surprise! William Bowery is Taylor Swift's boyfriend Joe Alwyn – and he actually wrote the entire piano part on Folklore's 'Exile'.
Taylor Swift has done it again. After surprise dropping her new album Folklore in July, she surprised fans by releasing a documentary film on Disney+ about how the album was made.
Folklore: the long pond studio sessions is a 1hr 46 minute doc where Taylor dives into the ins and outs of writing and recording a record in the middle of quarantine, and reveals a few secrets along the way.
Back in July, fans noticed a mysterious writer called William Bowery credited on two Folklore tracks, 'Exile' and 'Betty'. Taylor referred to them as one of her "musical heroes" but, after a quick Google search, no one with that name ever came up.
Multiple theories then appeared. Was it Joni Mitchell? Her brother Austin Swift? Her boyfriend Joe Alwyn? Lorde? The identity of William Bowery remained a secret until Taylor revealed exactly who it was in her documentary – and the fans were right after all this time.
William Bowery is Joe Alwyn. Confirmed.
READ MORE: Taylor Swift wants to turn The Last Great American Dynasty into a movie
Many fans had already guessed that Joe Alwyn was the mystery Folklore writer. A theory pointed out that he and Taylor once went to a Kings of Leon concert at the Bowery Hotel, and that Joe's great-grandfather is called William. They put two and two together and ended up with, unbeknownst to them at the time, the right answer.
Taylor confirmed the identity of William Bowery while talking about 'Exile' in her folklore: the long pond studio sessions documentary. (The 'Exile' chat starts at 19m 26s, if you wanna watch her proudly talk about him.)
Of Joe's secret contribution to the 4th track, Taylor says: "There's been a lot of discussion about William Bowery and his identity 'cause it's not a real person."
"So, William Bowery is Joe, as we know. And Joe plays piano beautifully, and he's just always playing and making things up and kind of creating things."
She continues: "Exile was crazy because Joe had written that entire piano part and was singing the Bon Iver part. He was just singing it, the way that the whole first verse is. So I was entranced and asked if we could keep writing that one. It was pretty obvious that it should be a duet because he's got such a low voice and it sounded really good sung down there in that register."
READ MORE: Taylor Swift created a fake band with her brother to stop Scooter Braun making money from her music
Taylor also revealed that Joe co-wrote 'Betty' with her too: "I just heard Joe singing the entire fully formed chorus of 'Betty' from another room and it was just like, 'Hello'. It was a step that we would have never taken because why would we have ever written a song together?"
"So this was the first time we had a conversation where I came in and was like 'Hey, this could be really weird and we could hate this, so because we're in quarantine and there's nothing else going on, could we just try and see what it's like if we write this song together?"
And there you have it. Joe Alwyn helped bring two of the best tracks on Folklore to life – and one of them ('Exile') is now nominated for a Grammy. Congrats to a songwriting! power! couple!
READ MORE: Taylor Swift hints she sent ex Joe Jonas a baby gift on new song Invisible String