Ansel Elgort's nude Instagram photo helps raise $200,000 for hospital staff
22 April 2020, 11:35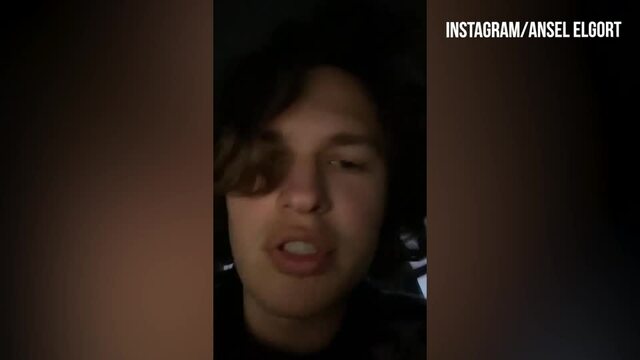 Ansel Elgort reacts to his nude photo being removed from Instagram
Ansel Elgort and his penis broke the internet with a naked shower photo taken by his dad to raise money for a good cause.
Ansel Elgort's bulge is going viral again and it's all thanks to a nude "OnlyFans" photo he uploaded to Instagram for charity.
Ansel Elgort is no stranger to breaking the internet. Last year (May 29), the internet started losing it after the actor posted 17 shirtless selfies on his Instagram page to promote his film, The Goldfinch. He then sparked controversy with some remarks about wanting an open relationship without sex and, more recently, fans noticed that he seems to have a very big bulge.
READ MORE: Ansel Elgort's bulge is breaking the internet
Now, Ansel is sending people into meltdown again and it's all thanks to a naked pic he shared, which was taken by his dad.
Last night (Apr 21), Ansel took to Instagram to post an artsy, black and white photo of him standing in the shower without any clothes on at all. In the image, Ansel is dripping with water and only his hand is covering his penis. Ansel posted the picture with the caption "OnlyFans LINK IN BIO" and tagged his dad, Arthur Elgort, who took the photo of him. Yes. This is true.
However, fans noticed that when they clicked the link, Ansel hadn't set up his own OnlyFans porn account. Instead, the star had used the image to raise awareness about a GoFundMe link raising money for hospital staff in Brooklyn. In doing so, he has helped raise over $210,000, and caused the entire internet to lose it in the process.
The photo has now been deleted due to violating Instagram's nudity regulations. Ansel has since posted a video of nature with the caption: "sex sells better than sunsets, plz donate at link in bio" to continue to promote the GoFundMe page. He also took to Instagram stories to thank people for donating. He said: "Looks like it was worth it."
Nudes for a cause. We have no choice but to stan.
What do you think of Ansel's publicity stunt?