Blake Lively casting defended by Colleen Hoover over It Ends With Us backlash
28 June 2023, 16:46 | Updated: 28 June 2023, 20:16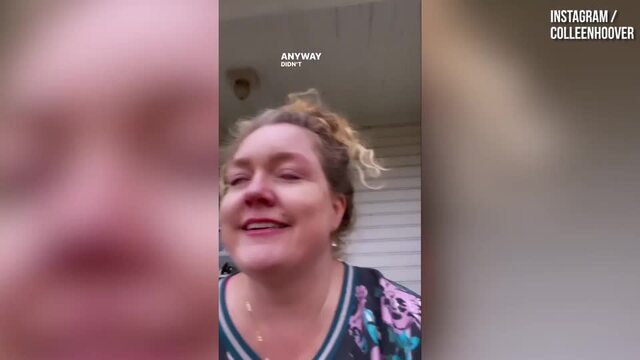 Colleen Hoover confirms It Ends With Us casting with Blake Lively
Colleen also addressed the backlash over the costumes Blake Lively has been spotted in.
It Ends With Us author Colleen Hoover has responded to the widespread criticism and backlash over the upcoming movie adaptation of her best-selling book.
Back in January, it was announced that Blake Lively would be playing Lily Bloom, and Justin Baldoni would be portraying Ryle, as well as directing the film.
As soon as Blake's casting as Lily Bloom was announced, it was met with huge criticism. Not because people don't like Blake (they loooove her, in fact) but because of her age compared to the character's.
Fans of the books immediately questioned why Blake had been cast as Lily, who is a 23-year-old college graduate. Many thought that Blake, who is 35, wasn't quite right for the role.
Now, author Colleen Hoover has responded to the backlash and explained how Blake's casting actually plays into a huge change in the movie adaptation.
Speaking to Jenna Bush Hager at book festival Book Bonanza, Colleen addressed the backlash that followed the Lily and Ryle casting announcements.
She explained that the upcoming adaptation will now feature some big changes with the character's ages.
"Back when I wrote It Ends With Us, the new adult [genre] was very popular," Colleen said. "You were writing college-age characters. That's what I was contracted to do."
"I made Lily very young. I didn't know that neurosurgeons went to school for 50 years. There's not a 20-something neurosurgeon. As I started making this movie, I'm like, we need to age them [up], because I messed up. So that's my fault."
So, while Lily is 23 in the book, she will now be closer in age to Blake in real life. Similarly, Ryle, who is 30 in the book, will now be a similar age to Justin Baldoni, who is 39.)
While fans of the book are eager to see how the whole thing turns out on screen, the conversation surrounding the adaptation has not been completely positive.
After photos of Blake in character as Lily made their way onto social media, people began criticising the costume choices too.
Colleen, on the other hand, is not worried about it at all, adding that she loves the costume discourse because it shows people "care" about the project.
"I don't remember describing outfits at all. I don't care what they have on," she added. "In my head, it's about the conversation they're having and the story. It's the same way in the movie. You've seen a couple of outfits that are completely out of context. I'm not worried about it."
READ MORE: A Simple Favor sequel starring Blake Lively and Anna Kendrick is officially happening
Leigh-Anne Picks Her Own Interview Questions | PopBuzz Meets