Here's how Gen V's viral Little Cricket sex scene was filmed
9 October 2023, 16:25 | Updated: 9 October 2023, 16:34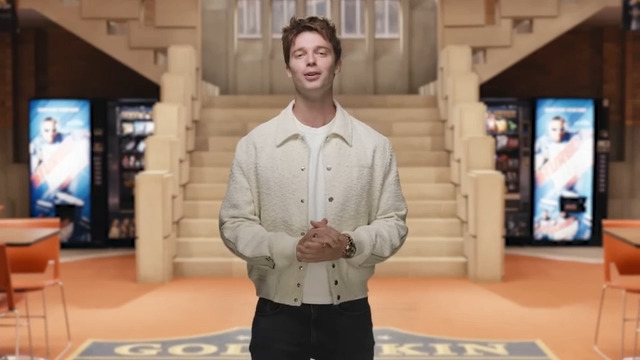 Watch Gen V's hilarious safe sex PSA promo
Is the penis in Gen V real? Gen V episode 1 involves Emma aka Little Cricket shrinking and climbing someone's penis.
Gen V has a lot of shock moments but it is the scene involving Little Cricket climbing a penis that's truly broken the internet.
In episode 1 of Gen V, we learn that Marie Mareu's roommate Emma Meyer has the power to shrink. She's also built a huge online following under the suprehero name Little Cricket. In the episode, Emma hooks up with a fellow student called Liam. He asks her to shrink and climb his penis. Begrudgingly, Emma accepts and goes to the toilet to make herself smaller.
Flash forward and we then see Liam lying naked on bed, groaning and saying "fuck that's so great". The camera then pans to the tip of his hard penis and we see Emma gripping onto it as Liam asks her to squeeze harder and kick his balls. Liam also asks Emma if his penis is the "biggest dick" she's ever seen and she reluctantly tells him what he wants to hear.
READ MORE: Gen V episode 4 release time: Here's what time it comes out
Naturally, viewers all around the world are losing it over the scene but how was it actually filmed and was that a real penis?
Is the penis in Gen V real?
Talking to Variety, Gen V executive producers Eric Kripke and Michele Fazekas revealed how the scene was filmed. Michael confirmed: "We have a practical, five-foot penis and we enhanced it with visual effects." Eric then said: "It's not our style to CG a penis. I think it's important for verisimilitude that we create these penises practically."
He continued: "When we were writing the pilot, that scene, as shocking as it is, is about Emma's self- esteem. It's about being goaded and pressured into doing something sexually that she's not comfortable with, and that really costs her something...this was a bold way to dramatize that."
The scene is reminiscent of The Boys season 3 episode 1. In it, Termite goes to a private room to snort cocaine with a love interest named Peter. After getting high, Peter asks Termite to go inside him. Termite then shrinks and jumps into Peter's penis by going into his urethra. However, Termite sneezes, expands to normal size and Peter explodes.
Explaining how the scene was filmed with Entertainment Weekly, showrunner Eric Kripke said that they built an actual penis prop. He said: "You're not supposed to show an erect penis. So we had to be very careful with the design of the penis - 'cause we built it practically. That's a real 11-foot-high, 30-foot-long penis built at great expense."
He then added: "But if you look at it, we had to design in all these wrinkles to make it clear that it wasn't erect."
In other words, the penis in Gen V episode 1 does not actually belong to Robert Bazzocchi who plays Liam. Like The Boys, it is a giant life-like prop that Emma actress Lizze Broadway had to climb. As for how they got around showing a hard penis on screen, you never actually see it in full on camera - just the tip and the shaft.
Of course, Little Cricket's scene isn't the only shocking moment in Gen V episode 1. Marie is a blood-bender and in the very first scene of the show she accidentally murders her parents when she has her first period.
With The Boys getting whackier each episode, we imagine that plenty more wild Gen V scenes await us.
Ashnikko Breaks Down 'Weedkiller' Track By Track | Making The Album