Kit Connor reveals Heartstopper casting backlash prompted his gym transformation
27 March 2023, 18:02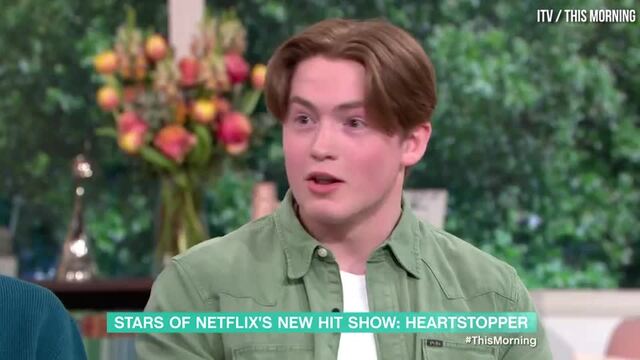 This Morning: Heartstopper star Kit Connor reveals he made Olivia Colman cry
"I opened my instagram.. to this.. hello? Kit Connor?"
Kit Connor has revealed his motive for his recent fitness journey amid rumours that he's joining the Marvel Cinematic Universe.
The Heartstopper star was the talk of the internet after a video of the 19-year-old at the gym went viral. Appearing in a YouTube video with fitness influencer Nathaniel Massiah at a gym in Croydon, London, the actor opened up about his fitness journey.
"The reason I got into the gym in kinda deep, to be honest," he said, explaining that after he was cast as 6ft 2 rugby player Nick Nelson in Heartstopper, he saw comments online saying he was too skinny to play the role.
Kit went on to explain that the comments motivated him to start eating more to bulk up, and he began doing press ups every day.
"I was doing 200 push up a day and the only thing that was developing was my chest," he noted. "If you look in Heartstopper, there's a couple of points where I'm wearing a quite a tight shirt and...the boobies were looking quite large."
Kit added that the gym has been a great help for his mental health, which is another reason that he loves to work out.
Nathaniel shared a selection of snaps to his own Instagram account, and fans were amazed by Kit's transformation. One voiced their surprise in a tweet, sharing stills of Kit and his trainer: "I opened my instagram.. to this.. hello? Kit Connor?"
The video and photos have certainly caused a stir, and some fans have begun to speculate whether Kit is preparing for a role in the MCU as Hulkling, the shapeshifting Skrull, who is one of the most prominent members in the Young Avengers.
"Not beating the Hulkling allegations," one user wrote in relation to Kit's resemblance to the MCU character. "Hear me out… Kit Connor [as] Hulkling…" another added. A third person said: "How is Marvel not making him Teddy/Hulkling?"
It was previously announced that Kit's Heartstopper co-star, Charlie Spring actor Joe Locke, has been cast in the upcoming WandaVision spinoff series Agatha: Coven of Chaos.
While Joe's role in the MCU is currently unknown, many Marvel fans have speculated that he will be playing a teenage version of Wanda's son Billy. In the comics, Billy and Hulkling are love interests.
Read more about Kit Connor here:
Penn Badgley vs. 'The Most Impossible Penn Badgley Quiz' | PopBuzz Meets