Oppenheimer viewers are losing it over Josh Peck doing his 'Megan' face in the film
28 July 2023, 17:18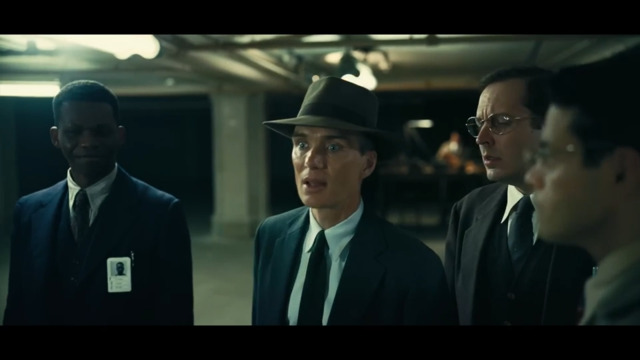 Watch the trailer for Oppenheimer
"At one point in 'Oppenheimer', Josh Peck makes this exact face and it almost took me out of the movie."
Josh Peck is in Oppenheimer?! Oh yes, yes he is. And the memes about his role are absolutely spectacular.
Josh plays the role of Kenneth Bainbridge in Oppenheimer. Kenneth was a real physicist who was involved in the Manhattan Project alongside J. Robert Oppenheimer. In the film, Josh's Kenneth is also the one who pushes the big red button to launch the atomic bomb for the Trinity Test.
Of course, seeing Josh in the movie has come as an unexpected surprise to some viewers (mainly the ones who only fulfilled the Barbie half of their Barbenheimer promises...) but despite his great performance, people haven't been able to stop making certain comparisons and jokes to scenes from Drake & Josh.
Who does Josh Peck play in Oppenheimer?
From jokes about blaming Megan for the bomb to the immortal "I'm pressing it! I'm pressing it!" quote, viewers have truly out done themselves with the memes and comparisons. (The fact that he was the one to push the button!? Literally so perfect!)
While watching the film, someone also claimed to have spotted Josh making a face similar to his iconic 'Megan' face from the Nickelodeon show.
"At one point in 'Oppenheimer', Josh Peck makes this exact face and it almost took me out of the movie," the tweet said.
And it turns out, they were kinda right. While it's not the exact same squinting expression, the comparisons aren't too far off.
ok my only actual Oppenheimer take is that it's so unbelievably funny to be watching an intense period piece and have to be like "is that… josh peck?"

— trash jones (@jzux) July 23, 2023
no one understands how important it is to me that Josh Peck is the one that pushed the button to drop the atom bomb

— alexis (@lexnoot) July 21, 2023
The best part of Oppenheimer is when the atomic bomb goes off and Josh Peck turns to the camera and squints his eyes and shouts "Megan"😑

— n0Ian (@nature_boy_15) July 19, 2023
Spoiler free Oppenheimer review: at no point does Josh Peck say "it's spherical" in reference to Gadget the first nuclear bomb.

0/10 pic.twitter.com/aFWrE6XURh

— Joshua Crawley (@AllHailTheVoid) July 23, 2023
On top of all the Drake & Josh memes, fans are also just realising that the Oppenheimer cast includes countless other actors from their favourite childhood shows and movies.
Devon Bostick from Diary Of A Wimpy Kid? Michael Angarano from Sky High? David Krumholtz who played Bernard in The Santa Clause movies? Alex Wolff of The Naked Brothers Band fame?! All present and correct.
READ MORE: QUIZ: Are you more Barbie or Oppenheimer?
The Witcher Cast Interview Each Other | PopBuzz Meets