Warrior Nun to return with three new movies after being cancelled by Netflix
16 August 2023, 11:35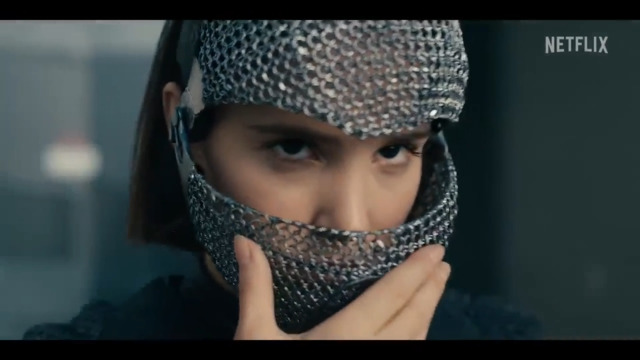 Watch the Warrior Nun season 2 trailer
"Warrior Nun is coming back as a trilogy of motion pictures. A trilogy of feature films. Three."
Months after being cancelled by Netflix after just two seasons, Warrior Nun is officially returning for an additional three movies on the streaming service.
The series starring Alba Baptista, which received overwhelmingly positive reviews from critics and audiences alike during its run, was cancelled in 2022 much to the complete dismay of fans. No official reason was given for its cancellation, but its presumed low viewership probably had an effect. (It peaked at No. 5 after three weeks in Netflix's Top 10.)
However, for fans who were hoping the cast and crew would get the chance to finally finish the story, there is good news.
Executive Producer Dean English confirmed in a statement titled 'The Warrior Nun Story Continues' that Warrior Nun will return to Netflix in the form of three feature-length movies.
"I need to start by thanking all of you loyal fans. It's because of you and your incredible energy that we keep pushing forward to make these stories. You guys really make it all worthwhile. So thank you so much for your continued support," he wrote.
"I am very happy to announce that Warrior Nun is coming back as a trilogy of motion pictures. Once again, a trilogy of feature films. Three."
Due to the ongoing WAG and SAG-AFTRA strikes, he was unable to share more about what the three movies would entail, and which cast members would be returning.
"Some may ask, 'Does this perhaps infer that there's going to be a universe being launched of Warrior Nun, which could expand into films and TV series following characters that we already know?' The answer to that question is yes. And there will be more details in the future," he continued.
At the end of the statement, Dean thanked the fans for their passionate work to help save the series: "I want to say that you guys have made me very, very proud through all your hard work and inspired me all the time to keep going."
In the wake of the show's cancellation, several petitions popped up urging Netflix to save the series. One petition, titled 'RENEW WARRIOR NUN FOR SEASON 3' garnered over 125,000 signatures. 1.3 million tweets were sent using the #SaveWarriorNun hashtag just three days after the cancellation news was shared.
There's currently no updates about the release date or filming start date, but watch this space! Warrior Nun is back!
READ MORE: Warrior Nun is coming back for season 3 after being cancelled by Netflix
NCT DREAM vs. 'The Most Impossible NCT DREAM Quiz' | PopBuzz Meets