Charli and Dixie D'Amelio face backlash for 'working at Walmart' in viral video
30 October 2023, 13:05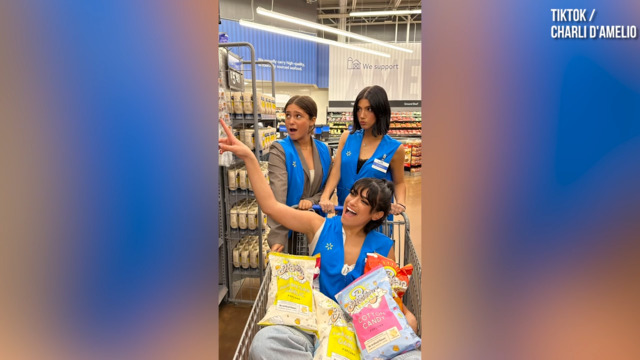 Charli and Dixie D'Amelio work in Walmart to promote new snack collab
Charli and Dixie D'Amelio worked as Walmart employees to promote their new Be Happy Snacks collab.
Charli and Dixie D'Amelio are coming under fire after sharing a video of them working at Walmart to promote a new product.
Last week (Oct 26), the D'Amelio family launched a brand new collection of snacks with Walmart. The first Be Happy Snacks products including four unique flavours of popcorn: Cotton Candy, Maple Bacon, Parmesan Garlic and Nice Spice. Talking to People, Charli D'Amelio said: "Coming up with flavours is so cool...we get to hear all of our different opinions."
To celebrate the launch of Be Happy Snacks, Charli and Dixie posted a TikTok video of them appearing to work at Walmart for a day. However, the video has received negative comments with people calling Charli and Dixie "out of touch".
READ MORE: Charli D'Amelio reveals why she unfollowed Addison Rae on Instagram
In the video, Charli and Dixie can be seen stacking shelves with actual Walmart employees. They can also be seen scanning products at the checkout. It's currently unclear if Charli and Dixie actually spent a full day working at Walmart or if they just pretended to for the sake of the video. However, they did get their own Walmart employee vests and name tags.
While some people have taken the video in good nature, others have called out Charli and Dixie for 'cosplaying' as everyday people. A person commented: "Wish i didn't just get done with my shift of cashiering at walmart and have this be the first thing on my fyp." Another wrote: "I wish working a minimum job in retail was this fun".
One person also tweeted: "Why do rich people enjoy cosplaying the broke."
Charli and Dixie aren't the first celebrities who've been criticised for doing everyday people activities. Last year, Kris Jenner and Kylie Jenner were called out for going to a grocery store for fun. Lana Del Rey also recently got a temporary job at Waffle House.
As it stands, Charli and Dixie are yet to respond to the backlash. We shall update you if they do.
What do you think of Charli and Dixie's video?
Madison Beer Explains Every Song On 'Silence Between Songs' | Making The Album