Aubrey Plaza's 'annoyed' SAG awards reaction explained by White Lotus co-star
28 February 2023, 16:11 | Updated: 28 February 2023, 17:07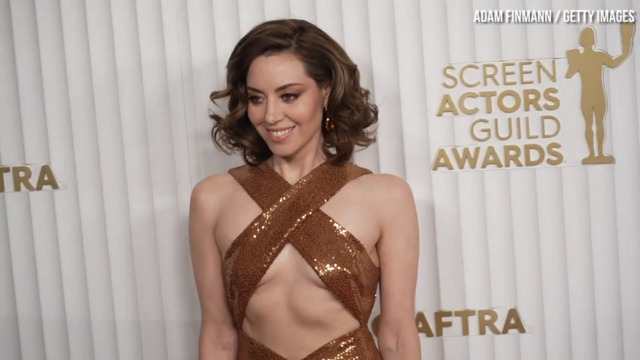 Aubrey Plaza stuns in cutout gown at the SAG Awards
"That's her humor — She has that dry, dead-pan wit; that's her biting wit."
Aubrey Plaza's White Lotus co-star has explained what happened during the cast's Best Ensemble winner's speech at the SAG Awards on Sunday night (Feb 26), after Aubrey's 'annoyed' reactions went viral on social media.
While F. Murray Abraham was giving the speech on behalf of the cast, Aubrey was stood at the back near on-screen husband Will Sharpe, Theo James, Meghann Fahy and Jon Gries.
At one point during the speech, Jon whispered something in Aubrey's ear prompting her to quickly fix her dress. Then, at the end of the speech, she mouthed "Jesus Christ" before leaving the stage by herself as the cast continued to celebrate.
Countless TikToks went viral speculating that Aubrey was "annoyed asf" for some reason. Some thought she was mad because she was at the back, or she was mad about Jon's dress comment...
Now, Jon Gries himself has explained what was going on, what he said to her on stage and shared Aubrey's reaction to the whole thing.
Jon, who played Tanya's scheming husband Greg on the show, explained what was happening with Aubrey during their SAG moment.
Speaking to Page Six, Jon said he could see that Aubrey was "being blocked by about 15 people," so he told her to "look to the front." Then, Jon revealed that he told Aubrey, "You might want to fix that first," in regard to her dress had ridden up to reveal a little underboob.
Addressing why Aubrey said "Jesus Christ" after the speech, Jon said she was "just being funny." "I think what she was intimating is why would that be a problem if my nipple is showing," he explained. "That's her humor — She has that dry, dead-pan wit; that's her biting wit."
The actor also called out the false claims that Aubrey was mad because she didn't get to talk during their acceptance speech: "We wanted him to speak; we all wanted him to. He's F. Murray Abraham! He's a frigging legend."
Jon also revealed that he texted Aubrey the following day to make sure she wasn't upset about the whole thing, particularly since it had been turned into a "creepy thing" on the internet. Her reply? "No! Not at all!"
And there you have it!
READ MORE: Evan Peters was originally cast as Ethan in The White Lotus season 2
READ MORE: Theo James says his nude scene in The White Lotus was originally much more explicit
Evangeline Lilly & Kathryn Newton Try To Name Every Marvel Movie In 1 Minute | Quantumania