Theo James says his nude scene in The White Lotus was originally much more explicit
31 October 2022, 13:21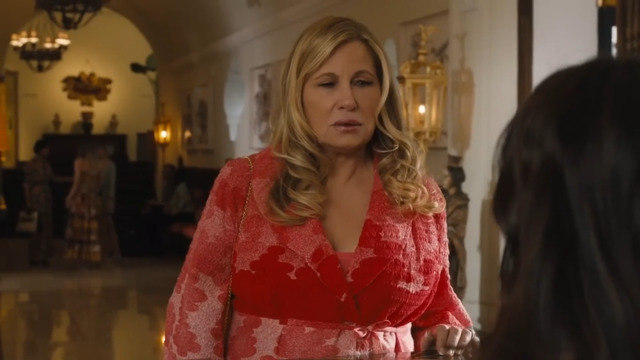 Watch the White Lotus season 2 episode 2 trailer
Theo James broke the internet with his penis scene in The White Lotus season 2 premiere.
Theo James has opened up about filming his viral nude scene in The White Lotus and how it was initially much more explicit.
Last night (Oct 30), The White Lotus season 2 debuted on HBO, and it wasn't long before a nude scene starring Theo James broke the internet. In the drama, Theo plays the role of Cameron, a well-endowed businessman who goes on holiday with his wife Daphne (Meghann Fahy), his college roommate Ethan (Will Sharper) and Will's wife Harper (Aubrey Plaza).
In one scene, Ethan borrows a pair of trunks from Ethan while Harper is fetching sun cream from her bathroom. However, as Harper is looking for her sun cream, Cameron can be spotted getting changed into Ethan's trunks behind her. Not only that but Cameron is fully naked with his very large penis on full display.
Naturally, the nude scene has gone viral online and now Theo has discussed the scene in depth in a brand new interview.
READ MORE: Lukas Gage shares his mum's reaction to explicit sex scene in The White Lotus
Chatting to Entertainment Tonight about the nude scene, Theo joked: "It is in my contract that I'm not allowed to do anything without being completely naked." Fans of Theo will already know that the actor recently had multiple nude scenes in HBO's The Time Traveler's Wife. The show also had a scene in which a teen version of Theo's character gave himself a blow job.
Discussing his nudity in The White Lotus further, Theo said: "Well, in this its funny because we're all kind of naked quite a lot because it's a holiday show, really... but it's also, [White Lotus creator Mike White], as in season 1, his nudity is always very specific."
Elaborating on the scene in episode 1, Theo added: "The initial version we shot was way too much. So, we did a more subtle version. They toned it [down]." 
The scene has sparked multiple viral reactions with many wondering if Theo used a prosthetic in the scene.
"I love prestige television!" - me seeing Theo James' huge dick on The White Lotus

— sam greisman (@SAMGREIS) October 31, 2022
While Theo is yet to reveal if he used a prosthetic for the scene or not, he did tease that the scene will play a larger part in the season. He said: "It's interesting, [because] at first we don't know whether it's deliberate or [if] it's accidental. But it reveals itself." He then teased that we'll find out "there's a purpose to it" in episode 5.
This marks the second time that The White Lotus has broken the internet with a nude scene following season 1's now-infamous rimming scene.
Sofia Wylie & Sophia Anne Caruso Pick Their Own Interview Questions | The School For Good And Evil