Colleen Ballinger's bizarre ukulele 'apology' video sparks memes and criticism
29 June 2023, 15:09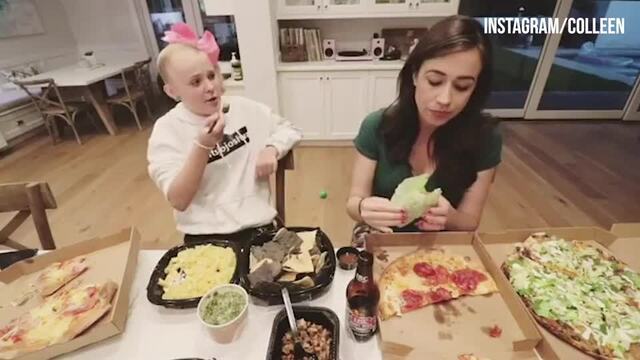 Colleen Ballinger and JoJo Siwa open up about receiving hate from trolls
"I can't believe this video is actually real hahaha who the f--- told her this was a good idea at all hahaha holy sh-- dude."
Colleen Ballinger's ukulele response to the recent claims accusing her of past inappropriate behaviour with underage fans has sparked a ton of wild reactions and memes on social media.
Yesterday (June 28), Colleen broke her silence for the first time to address the accusations that have been made against her. Several former fans had recently come forward to share their uncomfortable experiences and have levelled some pretty strong allegations against her.
After weeks of fans and followers urging her to issue a statement or address the claims, the YouTuber has now spoken... in the form of a 10-minute song, while playing the ukulele.
While her fans were happy to hear from her, others thought the decision to address everything in the form of a song was bizarre and a huge misstep. Here's all the reactions to her now viral video.
Kicking off the video, Colleen picks up a ukulele and starts by singing: "I haven't been doing so great so I took a little break. A lot of people are saying some things about me that aren't quite true. It doesn't matter if it's true though, just as long as it's entertaining to you."
She then explains that while she has been advised against responding to the claims by her team, she realised "that they never said that I couldn't sing what I want to say."
She then launches into her "Toxic Gossip Train" song, addressing several of the claims along the way, including the inappropriate conversations in group chats that included minors.
READ MORE: Colleen Ballinger appears to allude to allegations during live Miranda Sings show
Discussing the intentions of her video further, Colleen adds: "I know you wanted me to say that I was 100 percent in the wrong...Well, I'm sorry I'm not gonna take that route of admitting to lies and rumours that you made up for clout."
She continues: "Let me tell you, it's not very fun to have millions of people all over the world call you the most vile, horrendous, disgusting, life-ruining words that a person can be called. It doesn't matter that the things aren't true. Everyone just believes that you are the type of person who manipulates and abuses children.
"I'm not a groomer, I'm just a loser who didn't understand I shouldn't respond to fans. And I'm not a predator even a lot of you think so because five years ago I made a fart joke."
"Even though I know this video won't change anyone's mind about me, I still felt it was important to come on here and defend myself a little and take accountability," she adds.
Needless to say, Colleen's decision to respond to the allegations with a song has not gone down well.
you're telling me colleen ballinger sat her ass down, pressed record, picked up a ukulele and sang a 10 minute song calling these accusations 'toxic gossip'???????? pic.twitter.com/lXmMJDU5Fq

— nico🫧 (@gurlnico) June 28, 2023
colleen ballinger going weeks without acknowledging the shit that has come out about her just for her to whip out a UKELELE and SING A SONG ABOUT HOW THE TRAUMA SHES CAUSED THESE PEOPLE IS ALL A TOXIC GOSSIP TRAIN??????? oh she's……. pic.twitter.com/ArmmhlYrvW

— alex (@leeeksoup) June 28, 2023
The Colleen Ballinger non-apology seems to be taking a page from David Dobrik's response to our Vlog Squad investigation in 2021. She posted it to her third channel and said "my team didn't want me to do this!" It's fascinating how YouTubers copy each other's bad crisis PR.

— Kat Tenbarge (@kattenbarge) June 28, 2023
The comments on the video aren't great either. There is some positive messages from Colleen's fans, but the majority of viewers have not held back in their reactions to her response.
"I cannot believe this is real," one user wrote. "An apology without an apology," another added.
"I've been a fan for years. I've supported you for a long time. But Colleen, what is this bs?," a third person wrote, while a fourth said: "You mean to tell me, she wrote, rehearsed and rehearsed, sat down to film this, and still thought it was a good idea? Girl... you're delusional!"
As well as the confusion and criticism toward her response, memes and reactions also started flooding the internet. People just can't seem to wrap their heads around the bizarre decision to turn the whole thing into a song.
the internet: can you maybe address how you were acting inappropriate with children

colleen ballinger: UH 5, 6, 7, 8! *starts tap dancing*

— em 🍓 (@uhhmmily) June 28, 2023
After 17 hours, Colleen's video has been viewed over 2.2 million times.
Leigh-Anne Picks Her Own Interview Questions | PopBuzz Meets