Colleen Ballinger appears to allude to allegations during live Miranda Sings show
28 June 2023, 22:02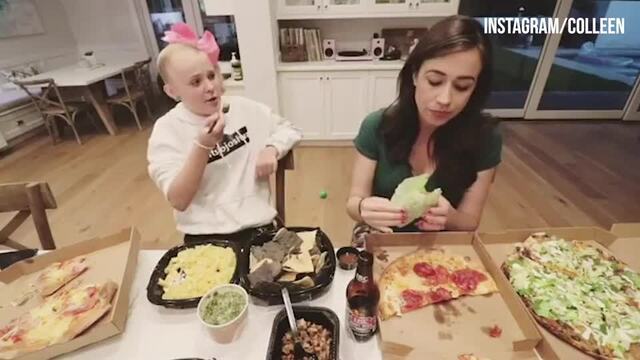 Colleen Ballinger and JoJo Siwa open up about receiving hate from trolls
Colleen Ballinger took to the stage during one of her Miranda Sings live shows and alluded to the allegations surrounding her.
Over the past few weeks, allegations against Colleen Ballinger have resurfaced online, with former members of her fandom accusing her of inappropriate behaviour.
Back in 2020, former fan and YouTuber Adam McIntyre accused Colleen of various things, including sending him lingerie when he was 13 years old. At the time, Colleen addressed those accusations, taking accountability for the errors and stating that the lingerie (which was brand new and unworn) was sent as a joke.
Those who have both criticised and defended Colleen are keen to hear the YouTuber address the recent claims. However, since Adam's first video, Colleen has remained silent. Her Instagram and TikTok accounts (as well as Miranda's) have not been updated since the end of May/early June.
Last week, Colleen took to the stage on her Miranda Sings live tour and people now think she's subtly alluded to the allegations.
In a video that was broadcast live from the June 23rd Indianapolis show, a surprised Colleen can be seen briefly thanking the audience for the overwhelmingly positive reaction she received on stage.
Colleen started: "I was not expecting that, thank you that was very sweet!"
"It's been a fun time," she added, before laughing. "I'm really happy to be here, I'm so glad to be on the stage and perform for you guys so thank you for having me."
Addressing the past few years of her life, she then said: "You know there's– It's been a crazy few years in general. Life is crazy. There's so many things to say and I'm not going to say those things."
While she did not address any of the accusations directly, many believe she appeared to be alluding to them.
Another clip from one of Colleen's live shows has also gone viral. In the clip, Miranda can be seen interacting with Colleen's husband Erik Stocklin on stage. She asks him: "Are you married?" He replies: "Yeah, to the best woman on the planet."
After the crowd's cheers die down, Miranda then says, "That's not what I heard," before laughing along with the audience.
It's unclear when this video was recorded. The caption states it's from the Indianapolis show but the date refers to the show in Chicago.
Colleen's response in the clip has prompted criticism from those who have been hoping to see the YouTube personality address the recent claims and accusations.
As it stands, Colleen has not yet issued a direct response to the recent allegations. We'll update this article if she speaks out.
Leigh-Anne Picks Her Own Interview Questions | PopBuzz Meets