Doja Cat loses 230,000 Instagram followers in 48 hours after fan controversy
25 July 2023, 12:10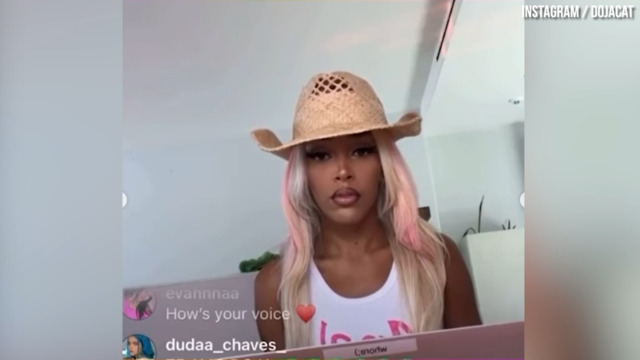 Doja Cat claps back at people commenting on her body
Doja recently criticised her fans for using the fandom name "Kittenz", and said she didn't love them. Now they're unfollowing her.
Doja Cat has lost over 200,000 Instagram followers in 48 hours following a string of negative comments she made about her fans and fan pages dedicated to her.
Doja's now-deleted remarks were made on Threads, where she told fans that she didn't love them, and then criticised the "Kittenz" nickname they've been using for their own fan community.
She has since deactivated her Threads account, but people are now responding by unfollowing her completely. A handful of her major fan accounts have also deactivated their profiles on Twitter.
READ MORE: Doja Cat explains the meaning behind her giant new bat skeleton tattoo
How many followers has Doja Cat lost on Instagram?
As of July 25th, a few days after she called fans out, Doja has lost around 238,000 followers on Instagram, according to Social Blade.
While it doesn't seem like much in the grand scheme of things, her total following has now dipped from 26 million to almost 25.8 million. Doja has also been consistently losing followers on Instagram for the past 30 days, with almost 300,000 accounts unfollowing her within that time frame.
Doja recently entered her new music era, releasing her new song 'Attention' back in June alongside a new aesthetic that features a lot of blood, a lot of cats and spiders. She's also disabled comments on her five most recent posts.
Over the weekend (Jun 23), fans began to clap back at Doja after she replied to fan saying she didn't love them. In response another fan who said she "would be nothing without her fans," Doja replied: "Nobody forced you, idk why you're talking to me like you're my mother bitch, you sound like a crazy person."
On top of that, Doja also took aim at the fan accounts dedicated to her that call themselves "Kittenz".
"My fans don't get to name themselves shit," she wrote. "If you call yourself a 'Kitten' or f*cking 'Kittenz' that means you need to get off your phone and get a job and help your parents with the house."
When a fan responded, saying that it was initially her who gave her fans that name, Doja replied: "When I was an alcoholic teen." Responding to another fan who asked what they should change the name to, Doja said: "Just delete the entire account and rethink everything, it's never too late."
She also called out fans who were using her real, full name – Amala Zandile Dlamini – as their social media handle, calling it "creepy as f*ck".
Doja Cat calls out her fans for calling themselves 'Kittenz' as a fandom name:

"my fans don't name themselves shit. if you call yourself a "kitten" or fucking "kittenz" that means you need to get off your phone and get a job and help your parents with the house." pic.twitter.com/NE4EbXmqvw

— Pop Base (@PopBase) July 23, 2023
Doja has not yet responded to any of the backlash that has occurred since deactivating her Threads account. However, one fan did offer a theory as to why Doja may be acting this way.
"Doja does love us, but she is now playing the role of Scarlet, they are two different characters, in an interview she said that she apologised for what would happen later..." the fan wrote on Instagram.
"She also said that she loved us before she got into the role of Scarlet, she doesn't hate us, but Scarlet does since she's evil, but Doja doesn't despise us."
Thoughts?
Read more about Doja Cat here:
The Witcher Cast Interview Each Other | PopBuzz Meets