Drake slams "weirdos" for questioning his Millie Bobby Brown friendship in Another Late Night lyrics
9 October 2023, 14:35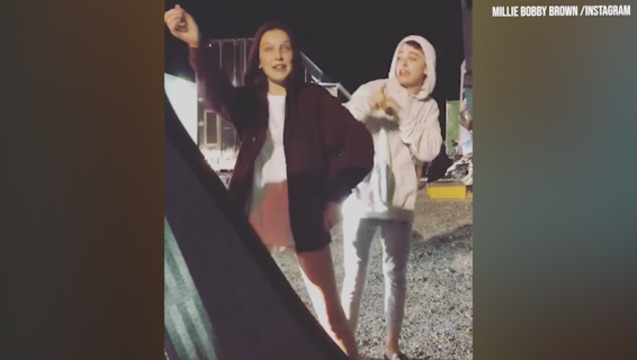 Millie Bobby Brown and Noah Schnapp take on Drake's 'In My Feelings' challenge in between filming Stranger Things 3
Drake met Millie Bobby Brown when she was 13 years old and they became friends and began texting soon afterwards.
Drake is calling out "weirdos" for questioning his friendship with Millie Bobby Brown in his new 'Another Late Night' lyrics.
Drake is back! Last week, the 36-year-old star returned with his eighth solo studio album For All the Dogs, and it wasn't long before some of the lyrics broke the internet. In 'Another Late Night', Drake addresses his controversial friendship with Millie Bobby Brown and claps back at the people who continue to comment on it.
In the first verse, he raps: "Weirdos in my comments talkin' 'bout some Millie Bobby, look / Bring them jokes up to the gang, we get to really flockin' / Or send a finger to your mama in some FedEx boxes / Open up that shit, it's jaw droppin', really shockin', ayy."
READ MORE: Megan Thee Stallion slams Drake for saying she lied about being shot in his Circo Loco lyrics
To catch you up to speed, Millie and Drake have been close for years. The two stars first met at Drake's concert in Brisbane, Australia in 2017 when Millie was just 13 years old and Drake was 31. Millie later revealed that she and Drake exchanged numbers and started texting regularly.
Talking to Access Hollywood, Millie said that Drake was "a great friend and a great role model". She also said that Drake would often give her "advice about boys" but wouldn't go into specifics, adding: "That stays in the text messages."
At the time, people questioned whether or not it was appropriate for a grown man to have a friendship with a teenage girl. Meanwhile, fans defended Drake and criticised people for suggesting that there would be anything untoward about his relationship with Millie.
Millie even clapped back on Instagram saying: "Why u gotta make a lovely friendship ur headline? U guys are weird . . . for real...I'm very blessed to have amazing people in my life. U don't get to decide that for me".
It isn't just 'Another Late Night' that has gone viral either. In Drake's new song 'Fear of Heights', he appears to diss Rihanna with the lyric: "Yeah, and the sex was average with you / Yeah, I'm anti 'cause I had it with you".
However, it's not gone down as well as Drake probably hoped. In 2018, Rihanna confirmed that she and Drake were no longer friends – and people are confused as to why he's still writing about her.
One person tweeted: "SHE HAS TWO KIDS AND HE'S STILL WRITING SONGS ABOUT HER, WHO'S THE ONE THAT'S HUNG UP???" Another wrote: "he's so bitter like it's been years..."
To add salt in the wound, Rihanna's choreographer Parris Goebel appeared to respond to the lyrics by posting a photo of Rihanna curving Drake's kiss at the MTV VMAs in 2016.
And I oop!
Read more Drake news here:
Kylie Minogue vs. 'The Most Impossible Kylie Quiz' | PopBuzz Meets