Halsey to sing The Little Mermaid classic on Disney's Family Singalong part 2
4 May 2020, 11:50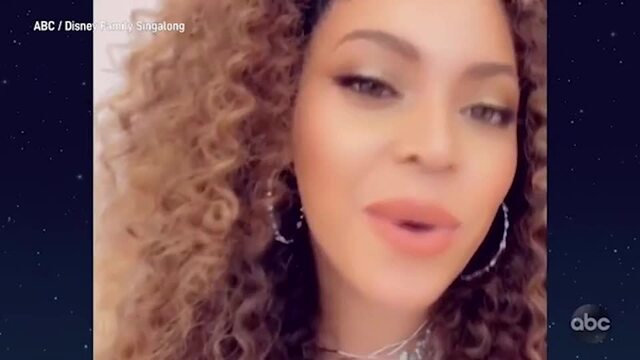 Beyoncé surprises fans with 'When You Wish Upon A Star' cover for Disney singalong
ABC's Disney Family Singalong is returning for a part two, with performances of classics by some of our favourite artists, including Halsey, Chloe x Halle, and Shakira this weekend.
For those of us who are still recovering from the first instalment of ABC's epic Disney Family Singalong, it's about to become a good start to the week, because the star-studded show is coming back for a part two very soon.
If you're still *dying* over that Beyoncé performance, and found yourself screaming 'I Won't Say I'm In Love' at the TV when Ariana Grande came on, well, us too - and the line up for the upcoming show is just as incredible as the first.
READ MORE: Disney are reportedly making a live-action Tangled movie
This time, the show will air on 10th May, and announcements so far include Idina Menzel and Ben Platt singing 'A Whole New World', while at-home Instagram queen Halsey will be taking us under the sea to perform The Little Mermaid's 'Part Of Your World'. Given her signature indie approach to pop music, we're super interested to see how she'll adapt the song into a Manic-worthy anthem.
Rebel Wilson will also be taking to the (metaphorical) stage to give us a live rendition of 'Poor Unfortunate Souls'. Can we smell a casting announcement incoming?
Other names include Seth Rogan and Donald Glover taking on The Lion King, Chloe and Halle Bailey for The Princess and the Frog, Keke Palmer doing Hercules, and Shakira singing her own 'Try Everything' from Zootopia.
We can also expect an extra special performance from Family Singalong alumni Julianne and Derek Hough, bringing a Mary Poppins medley of 'Supercalifragilisticexpialidocious' and 'Step in Time' - we're already excited.
See the full schedule here:
Idina Menzel and Ben Platt - 'A Whole New World'
Chloe x Halle and Anika Noni Rose - 'Almost There'
Seth Rogen and Billy Eichner featuring Donald Glover and Walter Russell III - 'Hakuna Matata'
Halsey - 'Part Of Your World'
Rebel Wilson - 'Poor Unfortunate Souls'
Miguel - 'Remember Me'
Derek Hough, Julianne Hough and Hayley Erbert - 'Step in Time' and 'Supercalifragilisticexpialidocious'
Shakira - 'Try Everything'
Josh Gad - 'When I am Older'
Disney on Broadway stars Merle Dandridge, Heather Headley, Adam Jacobs, Caissie Levy, Kara Lindsay, Kevin Massey and Josh Strickland - 'You'll be in my Heart'
Keke Palmer - 'Zero to Hero'
The show will air on ABC at a slightly-earlier-than-usual 7pm EST (12:00am BST if you're in the UK), on Sunday 10th May, and promises to be just as incredible as the first singalong that left us voiceless for days. Sorry, not sorry.
We won't be mad if another surprise Beyoncé performance pops up either. Just saying, if you're reading this, Bey.
Who's ready for round two?