Miley Cyrus Tour 2023: Tickets, prices, presale, dates, setlist and everything we know so far
9 March 2023, 21:15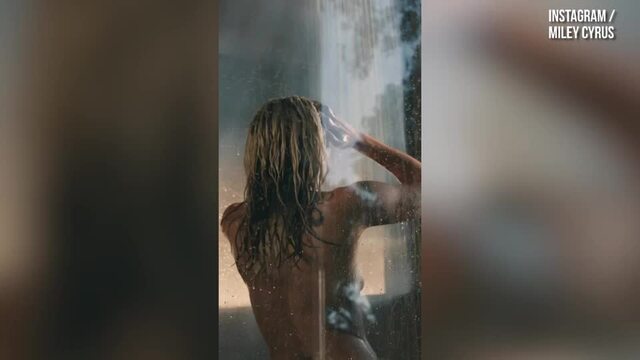 Miley Cyrus sings Flowers in the shower
How much will Miley Cyrus' Endless Summer Vacation Tour tickets be? Where to get an Endless Summer Vaction Tour presale code? What cities will Miley Cyrus play in? Here's all the information we know so far.
Miley Cyrus season is officially in full swing. A new era has finally begun but will there be an Endless Summer Vacation Tour?
It's hard to believe it but it's now almost 10 years since Miley Cyrus went on her last world tour. In the time since, she ended her Bangerz Tour, Miley Cyrus has released multiple hit singles ('Malibu', 'Midnight Sky', 'Mothers Daughter'), multiple hit albums (Younger Now, Plastic Hearts etc.), an EP (She Is Coming) and a brilliant live album (Attention).
In January, Miley launched her Endless Summer Vacation era with the record-breaking number 1 single 'Flowers'. Now, the album is here and demand to see Miley perform live is higher than ever. What has she said about a potential tour though?
READ MORE: Miley Cyrus debunked viral cheating rumours about Liam Hemsworth years ago
Here's everything we know so far about Miley's Endless Summer Vacation Tour including tour dates, tour stops, ticket prices, where you can find presale codes and everything in between.
Is Miley Cyrus going on tour in 2023?
Will there be an Endless Summer Vacation Tour?
As it stands, Miley is yet to confirm whether or not she will be going on tour in support of her new Endless Summer Vacation album. However, given how much Miley loves performing live, and how popular 'Flowers' is, it seems very likely that a tour will happen.
Miley released her last album, Plastic Hearts, during 2020 when touring was still difficult due to the coronavirus pandemic. With the world more open now, we imagine that Miley will be eager to go on tour.
In the meantime, you can watch Miley perform songs from Endless Summer Vacation live on Disney+ in her brand new Backyard Sessions.
Endless Summer Vacation Tour dates: When is Miley Cyrus going on tour in 2023?
There is currently no information on if/when Miley Cyrus will go on tour. That being said, if she does do an Endless Summer Vacation Tour, it's possible that she will start the tour in spring/summer after the album comes out on March 10th. In other words, get your savings ready because you could be seeing Miley live imminently.
Bookmark this page and we'll update you with more info as soon as it's announced.
Miley Cyrus 2023 tour locations: What cities will Miley Cyrus play in?
Miley Cyrus is yet to reveal where she will next be going on tour. However, given that it's been almost an entire decade since her last world tour, we reckon that Miley will be aiming to play to as many of her fans as possible.
For her last world tour, Miley performed in Europe, North America, Oceania and South America. Our bet is that the Endless Summer Vacation Tour will feature dates in all of these places, in particular in the US and the UK.
Miley has done arena tours in the past and we imagine that her next tour will include arenas. That being said, given how popular 'Flowers' is, it's also possible that she will be considering playing stadiums this tour.
Miley Cyrus Endless Summer Vacation tour presale codes: How to find a presale code for your country
Miley is yet to reveal any presale information for an upcoming tour. However, most major artists use similar presale formats. If Miley follows in the footsteps of artists like Beyoncé, Taylor Swift and Harry Styles, she will probably have a Citi Verified Fan Presale in the US and an O2 Priority Presale in the UK.
There may also be LiveNation and fan presales so make sure you're signed up to Miley's mailing list via her website. Scroll down to the bottom of her main page and enter your information: HERE.
Miley Cyrus Endless Summer Vacation tour ticket prices: How much will the tickets to Miley's tour be?
Prices for Miley Cyrus' next tour are yet to be confirmed. Tickets for her Bangerz Tour started at £47.50 in the UK and went up to £1000 for meet and greets. It's likely that Miley's new tour prices will be slightly higher given that she's only become more popular since Bangerz came out. We imagine that her prices will be similar to other major artists.
For comparison, these are the UK stadium prices for Beyoncé's upcoming Renaissance World Tour.
Seated - £56.25 to £199
Standing - £106.80
Gold Circle - £177.50
May the odds be ever in your favour when booking tickets.
Miley Cyrus Endless Summer Vacation tour setlist: What songs will she play?
Over the course of her legendary career to date, Miley has released seven studio albums, two EPs, multiple live albums and five soundtrack albums as Hannah Montana. With Endless Summer Vacation now here, Miley has hundreds of iconic songs to pick from.
Like most of Miley's previous tours, it seems likely that the Endless Summer Vacation Tour will mainly feature songs of the album it's promoting alongside her biggest hits. Expect to hear 'Flowers' alongside the likes of 'Midnight Sky' and 'The Climb'.
As usual, we won't know the setlist until the first date of the tour. Return to this page then to find out what she plays.
Read more Miley Cyrus news:
Paul Rudd Tries To Name Every Marvel Movie In 1 Minute | Quantumania | PopBuzz Meets