Are Shakira's Copa Vacía lyrics about Gerard Piqué? Here's the English translation
30 June 2023, 12:10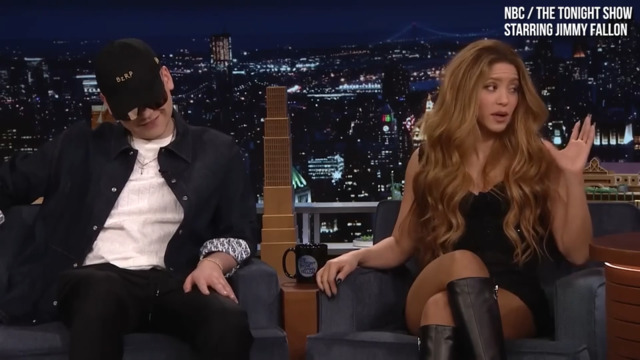 Shakira reveals her son Milan made her collab with Bizarrap
Shakira appears to call out her ex Gerard Piqué in the English translation of her Copa Vacía lyrics.
Shakira has just released another banger but what do her 'Copa Vacía' lyrics mean and are they about her ex Gerard Piqué?
Ever since Shakira released her viral smash hit 'Shakira: Bzrp Music Sessions, Vol. 53' at the start of the year, she's used her music to express how she feels in the wake of her split from Gerard Piqué. In both the Bizzarap collab and her Karol G duet 'TQG', Shakira makes several digs at her ex. Meanwhile, 'Acróstico' is about how her kids are the true loves of her life.
READ MORE: Read the English translation of Shakira's emotional Acróstico lyrics
Now, Shakira has dropped a new reggaeton anthem and it appears that her 'Copa Vacía' lyrics are putting Gerard Piqué on blast again. With that in mind, we've got the English translation so you can see exactly what the meaning of the song is.
What does Copa Vacía mean?
'Copa Vacía' translates directly to 'Empty Cup' in English and the single is about being unfulfilled sexually and emotionally in a relationship. Shakira sings: 'You're colder than January / I ask for heat and you don't give me more than ice' and 'I've been thirsty for you for a while, I don't know why / I'm left wanting more and wanting to drink from an empty cup.'
Shakira gets more specific in the second verse. She adds: 'You're always busy with so much business / It would do you good, my love, a little bit of leisure' and 'Drop the phone, use your hands with me / I know you're hot but I'm much hotter'.
In the bridge, Shakira also sings: "Your kisses are made of salt water, I drink and I don't see anything / I wait for you and you disappoint me, / And that's not how it works."
Shakira, Manuel Turizo - Copa Vacía (Official Video)
Shakira is yet to specify if 'Copa Vacía' is about her ex Gerard Piqué. However, based on their split and her recent singles, it is possible that it was inspired by their relationship.
Piqué reportedly cheated on Shakira with his new 22-year-old girlfriend Clara Chia Marti and Shakira directly calls him out in her 'Shakira: Bzrp Music Sessions, Vol. 53' lyrics.
Shakira recently told People en Español that she found out about Piqué having an affair when her dad was in hospital. She said: "My home was falling apart. I found out through the press that I had been betrayed while my dad was in the ICU."
Shakira - 'Copa Vacía' lyrics: English translation
VERSE 1 - Shakira
You see it like this
I can't keep up with this rhythm
I don't know what else to do
To get more from you
Why don't you want, when I want
You're colder than January
I ask for heat and you don't give me more than ice, oh oh
CHORUS - Shakira
I've been thirsty for you for a while, I don't know why
I'm left wanting more and wanting to drink from an empty cup
I've been thirsty for you for a while, I don't know why
I'm left with more desire and eager to drink from an empty glass

VERSE 2 - Shakira
You're always busy with so much business
It would do you good, my love, a little bit of leisure
Relax here on the sofa and give me your attention, oh oh.
You don't have to be a poet to sweeten my ear
Drop the phone, use your hands with me
I know you're hot but I'm much hotter
CHORUS - Shakira
I've been thirsty for a while, I don't know about you
Because I'm left wanting more and wanting to drink from an empty cup
VERSE 3 - Manuel Turizo
As if I didn't feel anything, now you look at me so differently
And I'm swimming against the current
You have me in the streets looking
For something to fill this void that you feel
I'm not a mechanic but I try to fix it
And it doesn't work by resuscitating a heart that doesn't react
I don't want to try it with someone else

CHORUS - Manuel Turizo & Shakira
I've been thirsty for a while, I don't know about you
Because I'm left wanting more and wanting to drink from an empty cup
I've been thirsty for a while, I don't know about you
Because I'm left wanting more and wanting to drink from an empty cup
Aaah, aah, aaah
BRIDGE - Shakira & Manuel Turizo
Your kisses are made of salt water,
I drink and I don't see anything
I wait for you and you disappoint me,
And that's not how it works
But you don't want, when I want you to
You're colder than the month of January.
I give you heat but you always give me ice, oh oh
CHORUS
I've been thirsty for a while, I don't know why
I'm left wanting more, wanting to drink from an empty cup
I've been thirsty for a while, I don't know about you
Because I'm left wanting more and wanting to drink from an empty cup
Aaah, aah, aaah
Leigh-Anne Picks Her Own Interview Questions | PopBuzz Meets