Netflix viewers call Obsession the "worst" show they've ever watched
21 April 2023, 14:07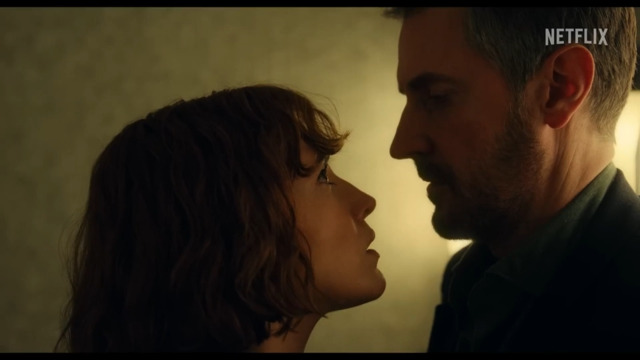 Watch the trailer for Netflix's erotic drama Obsession
Some even shared their brutally honest opinion that it was "one of the worst things they've ever seen".
Netflix's latest erotic thriller series Obsession is currently dividing the internet – some people are...obsessed with it and others are calling it the "worst" show they've ever watched. Yikes.
Obsession stars Richard Armitage and Charlie Murphy as William and Anna. William is a well-respected, high-profile surgeon who begins an all-consuming affair with his son's fiancée Anna. A lot of sex, deep dark secrets and shocking plot twists ensue.
On paper, it looks like it has all the makings of a much-talked about, steamy Netflix hit. And given that it was based on the same novel that the 1992 R-rated Damage (starring Jeremy Irons and Juliette Binoche) was based on, fans were excited to tune in.
Unfortunately, however, the official reviews of the show have not been forgiving and the audience reviews may be even worse.
Obsession was billed as "hot and heavy" series, but many fans are disagreeing with that statement. Everyone seems to be left disappointed by the lack of build up to William and Anna's sudden affair, and their "boring and unsexy" sex scenes.
On the r/Netflix subreddit, one user shared their disappointment, writing: "I thought 'Oh I love Richard Arnitage [sic] and he is very attractive, the sex scenes will be hot, lots of angst'. Now, watched halfway through the first episode and OMG that was boring as heck, slow and not sexy at all. There is no chemistry whatsoever. I skipped through the episodes and it didn't get any better. Shame."
Joking about the show's noticeably short sex scenes, one user wrote: "Imagine risking it all for sex that lasted 45 seconds max."
Sharing their disappointment in the show, one Twitter user wrote: "This might be one of the worst of the recent Netflix releases. Trashy plot and messy storytelling with zero character development. Waste of time, tbh."
Another added: "Obsession on Netflix has to be one of the weirdest and worst watches in a while… what the fuck was that".
obsession on netflix has to be one of the weirdest and worst watches in a while… what the fuck was that

— lewys (@lookingforlewys) April 18, 2023
Even as a soft porn, #ObsessionNetflix is really terrible. Very unsexy, zero chemistry with incoherent plot. Are we supposed to believe that he became infatuated after just just a few seconds of starring and forced conversation? Is she a witch? Waste of time.

— Michael Akan (@MichaelAkan) April 15, 2023
On the flip side, however, some fans are really enjoying the show. There's plenty of people who have said they were immediately "hooked" on the spicy drama. Others are also full of praise for the actors. Indira Varma's portrayal of William's betrayed wife Ingrid is a clear standout among viewers.
Despite the negative reviews from critics and fans, plenty of viewers are still tuning into the series. In its first week, it reached Netflix's Top 10 worldwide chart, with FlixPatrol reporting over 40 million hours watched. As of April 21st, it's the third most watched Netflix series worldwide.
And with renewed conversation surrounding the show's "traumatising" pillow scene going viral, it'll no doubt climb even higher up the Top 10 as curiosity kicks in.
READ MORE: Here's how Netflix's Sex/Life sex scenes are filmed
READ MORE: 365 Days' Michele Morrone says he didn't need an intimacy co-ordinator for his sex scenes
Sabrina Carpenter Breaks Down Her Favourite Lyrics | PopBuzz Meets