Outer Banks' Chase Stokes and Madelyn Cline are dating in real life
15 June 2020, 14:51 | Updated: 15 June 2020, 20:50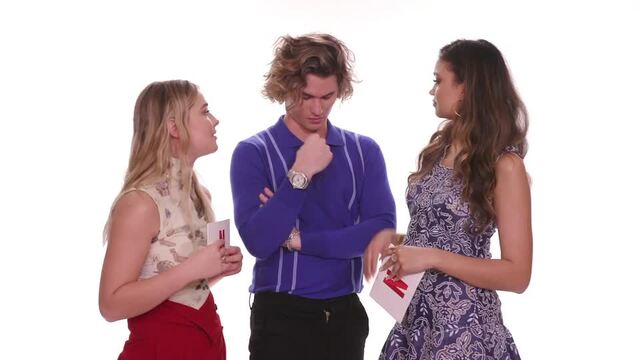 The cast of Outer Banks flirt with each other in Charm Battle
Yes, the John B and Sarah Cameron stars just confirmed their relationship on Instagram.
If you've logged on to Netflix this quarantine, then you probably will have come across Outer Banks, clicked play and fallen into a pit of obsession over John B and his quest to find his father's missing gold.
Over the past few months, the teen drama has become a huge hit for the streaming service, with fans becoming more and more invested in the friendship between the Pogues and what the hell might happen next in season 2.
READ MORE: Outer Banks creator reveals the show could run for 4 seasons
While the exact plot for Outer Banks season 2 is still under wraps, fans dying for more of John B and Sarah Cameron's relationship might just be in luck... kind of.
Actors Chase Stokes and Madelyn Cline just confirmed that they're dating each other in real life.
Chase confirmed the news himself after posting two Instagram pics of the two of them having a picnic on the beach, alongside the caption: "cats outta the bag," with a heart emoji. He tagged Madelyn in the second image.
Co-star Jonathan Daviss (who plays Pope on the show) commented "well it's about time" while Madelyn wrote: "I've fallen and I cant get up."
Fans, co-stars and friends of the couple swarmed the comment section, freaking out over the news and congratulating the two of them.
Fans had previously suspected that the two were an item after it was revealed that they were quarantining together throughout the coronavirus pandemic. (They also quarantined with co-stars Rudy Pankow and Drew Starkey.)
So, there you have it. John B and Sarah Cameron are together in real life. Shippers, this is your moment.
In other Outer Banks related news, there's still no confirmation from Netflix on a season 2 of the show, but it has been confirmed that writing is underway, and the creators of the show are planning for at least four seasons. Meet you back in the OBX.