Outer Banks' Chase Stokes and Madelyn Cline were both in Stranger Things
22 April 2020, 16:44 | Updated: 15 June 2020, 20:50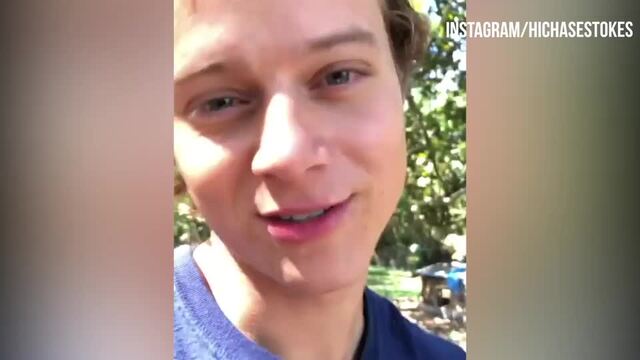 Chase Stokes shares hilarious video behind the scenes video from Outer Banks
Three actors from Outer Banks have all had roles in Stranger Things – and you probably didn't even realise.
As we all get swept away (pun absolutely intended) with Netflix's newest teen drama Outer Banks, fans are now discovering that a few of their new fave actors have appeared in other Netflix shows before.
While most of the cast members are newcomers, there's a couple of stars on the show that you'll have definitely seen before. For those of you that have seen The CW's Black Lightning, you'll recognise Madison Bailey (Kiara) instantly, and American Horror Story fans will know Adina Porter (Sheriff Peterkin) from her roles in Murder House, Roanoke, Cult and Apocalypse.
READ MORE: Outer Banks season 2 is already in the works
But did you know that the two actors in your new fave TV ship have both had roles in Stranger Things? Yep, Chase Stokes (John B.) and Madelyn Cline (Sarah) can be seen in seasons one and two of the show. Caroline Arapoglou, who plays Rose Cameron, also appeared in season 3.
Who did Chase Stokes play in Stranger Things?
In a blink and you'll miss it moment from season one, Chase played a character called Reed. He's only seen on screen very briefly, in a scene with Nancy (Natalia Dyer) and Jonathan (Charlie Heaton).
Chase can be seen shouting a suggestive comment at Nancy as he drives past her and Jonathan, just before she discovers the graffiti on the cinema.
You can clock him in season 1, episode 6 ('The Monster').
Who did Madelyn Cline play in Stranger Things?
While Madelyn had a larger role in the show, don't be surprised if you don't immediately recognise her. Madelyn played Tina, a popular girl, and she had brown hair for the role.
Madelyn is listed in two episodes at the start of season 2. She can be seen in 'MADMAX' waiting in the parking lot for Billy to show up, so the girls can watch him walk into school. And she can also be seen at the Halloween party in 'Trick Or Treat, Freak'.
Caroline Arapoglou, who plays Rose Cameron in Outer Banks also appeared in Stranger Things 3 as Winnie Kline. In season 3, she can be seen with Karen Wheeler at the pool, waiting for Billy to arrive on his lifeguard shift. She also appears in 'The Sauna Test' as Mayor Kline's wife.
And there you have it. Who knew Outer Banks' had so many ex-Hawkins residents in town?