The Idol receives brutal 9% critics rating on Rotten Tomatoes
24 May 2023, 13:15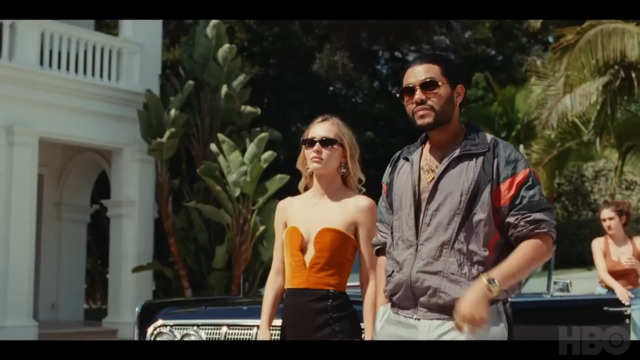 Lily-Rose Depp and The Weeknd head to "the gutters of Hollywood" in new trailer for The Idol
One critic called it "nasty, brutish, [feels] much longer than it is, and way, way worse than you'd have anticipated."
The reviews are in... and it's bad for HBO's The Idol. (Or is it? Really?)
The Idol, created by "the sick and twisted minds" of Sam Levinson and Abel "The Weeknd" Tesfaye, stars Lily-Rose Depp as Jocelyn, a pop star who cancels her tour after a nervous breakdown and later begins to reclaim her pop girl crown while starting a complex relationship with cult leader and self-help guru Tedros (Tesfaye).
The controversial show has already been plagued by reports of toxic on-set behaviour, and conversation about the series on social media has been mixed ahead of its release.
The Idol had it's premiere at Cannes Film Festival on May 22nd, where it received a five-minute standing ovation from the audience. However, the applause in the room didn't quite reflect how various critics felt about the whole thing.
Just one day after the show's premiere, The Idol's Rotten Tomatoes rating debuted at 20% after a handful of critics published their reviews, and it quickly fell to 9% a few hours later as more reviews emerged.
READ MORE: The Weeknd slammed over his response to The Idol's 'torture porn' accusations
So far, critics at Cannes only screened the first two episodes of the show, which will be airing on HBO on June 4th and June 11th, respectively. But the reviews for those first two episodes have been absolutely abysmal.
Rolling Stone critic David Fear gave the show a Rotten score, and described it as "nasty, brutish, [feels] much longer than it is, and way, way worse than you'd have anticipated."
Other critics called it "crude, gross, and sexist" and "grim, gross, and vulgar". Several also called out the "torture porn" and "rape culture" moments within the episodes.
On the flip side, Vanity Fair critic Richard Lawson offered a slightly more positive review: "Levinson's whole deal is not for everyone -- and often not for me -- but The Idol offers up enough regular old entertainment to balance out his aggressive flourish and the bluster of his thematic ambitions."
On Metacritic, the show opened with a score of 27, based on 9 "generally unfavourable" critic reviews.
How does Sam Levinson feel about the reception the show has garnered so far, despite not having even premiered on HBO yet?
Well, speaking at a Cannes press conference earlier this week (May 23), the co-creator addressed Rolling Stone's report of toxic on-set behaviour and the social media conversation it stirred up, saying: "When my wife read me the article, I looked at her and I said, 'I think we're about to have the biggest show of the summer.'"
Let's face it, 9% on Rotten Tomatoes? It doesn't mean anything for viewing figures, really... Euphoria fans and casual viewers alike are all still going to tune in out of curiosity to form their own opinions on just how bad/good it actually is. Only time will tell if it becomes the "biggest show of the summer".
READ MORE: Euphoria season 3 may jump five years into the future and fans are confused
Jonas Brothers vs. 'The Tower Of Truth' | PopBuzz Meets