Selling Sunset's Davina explains why she's not in season 7
16 November 2023, 09:27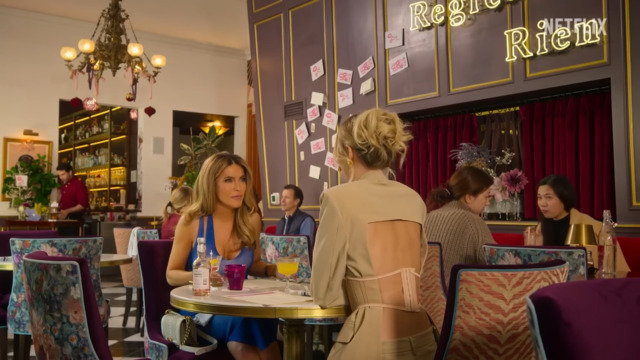 There's drama in new Selling Sunset season 7 clip
Why is Davina not on Selling Sunset anymore? The real estate agent explains all on her Instagram
If you've just sat and binge-watched Selling Sunset season 7, you've probably got several questions about what just went down...
Where did Marie-Lou find the audacity to approach Chrishell with that nonsense? When will Bre and Chelsea stop beefing and come together to maximise their joint slay? Who put 50p in Brett?! And, of course, where the hell did Davina go?
Selling Sunset OG Davina Potratz (who still hasn't sold the $75 million listing, btw) is noticeably absent from the show's seventh season. She popped up a couple of times in season 6 – she had a seat in the office, she was at Heather's baby shower, and at Emma's open house.
But why is she not in season 7? Davina has now explained why she is not included in Selling Sunset season 7 over on Instagram...
Has Davina left Selling Sunset?
Has Davina left the Oppenheim Group?
As of November 2023, Davina does actually still work for the Oppenheim Group.
She is still listed on the website as as a Broker and the Director of the New Development Division. (She previously left the O Group to join another agency but later returned.)
Based on her Instagram likes, it also looks like she's on good terms with the other agents. Chrishell and Emma are always liking and commenting on her posts, as well as Alex Hall, Alex Rose and Brandi from the OC office.
And of course, ex-O Group agent Christine Quinn is always in her comments hyping her up, too.
Why is Davina not in Selling Sunset season 7?
Davina does actually pop up very, very briefly in the background of one shot in the final episode, at the grand opening of the new Oppenheim Group office. But other than that, she's nowhere to be seen.
For those looking for an answer as to why she's not in season 7, Davina has been responding to fans on Instagram who are asking the same question. When asked if she was still a part of Selling Sunset, she replied: "Not really".
In response to another fan asking if she was coming back to the show in the future, Davina wrote: "I'm not in S7 much, maybe in a few backgrounds lol but who knows what the future holds. I get a lot of messages of people mising my realness on the show. Can't just always throw the real one to the wolves."
She also told one fan who wanted to see more of her in the show: "You'll have to tell that to producers :)"
Selling Sunset cannot end without Davina finally selling that $75 million listing. We need her back before it ends for good!
Read more about Selling Sunset and Selling The OC here:
Madison Beer Explains Every Song On 'Silence Between Songs' | Making The Album