Why did Tyler Stanaland and Brittany Snow divorce? Here's what he reveals in Selling The OC
17 September 2023, 15:59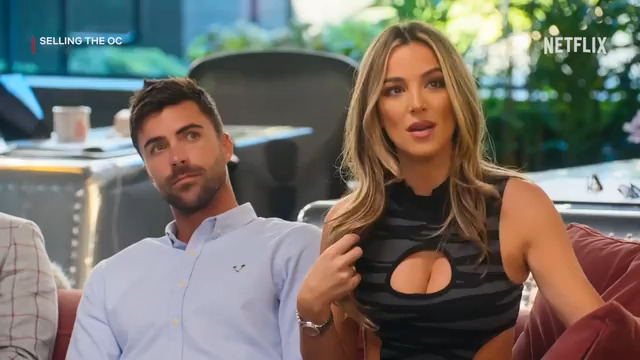 Watch the Selling The OC season 2 trailer
Tyler and Brittany's divorce was announced in September 2022, but what happened on Selling The OC season 1 had nothing to do with it.
A month after Selling The OC season 1 aired on Netflix, cast member Tyler Stanaland and actress Brittany Snow announced that they were separating.
Viewers immediately wondered if it had anything to with the things that happened on season 1 of the Netflix series, including Alex Hall and Tyler's flirting as well as the incident involving Kayla Cardona trying to kiss him. It was later reported that that had nothing to do with the breakdown of Tyler and Brittany's relationship.
In January 2023, Brittany officially filed for divorce from the real estate agent citing "irreconcilable differences" and their divorce was finalised in July 2023, with the two becoming legally single on August 11th.
When viewers pick back up with the agents at The Oppenheim Group in Selling The OC season 2, Tyler is going through his divorce. Here's everything he shares about what happened between him and Brittany.
Why did Tyler Stanaland and Brittany Snow get divorced?
Speaking to Alex Hall in the first episode, Tyler opened up about how he was feeling, explaining that he was "surviving" and "getting through it".
"I was married for two years, and as of recently, I'm going through a public divorce," he said in a to-camera interview. "Still being finalised it takes some time but it is difficult and heartbreaking, but it doesn't have to a negative thing as well."
"I think there's a stigma with divorce and change that it all has to be bad but that's not necessarily true," he continued.
Noting the fact that he and Brittany didn't have children, Tyler later said: "In a lot of ways it's been more simple, and in other ways it's been more complicated."
Earlier in the episode, Brandi questioned whether Tyler and Alex Hall's flirtatious relationship was ok considering he was not officially divorced at the time.
Speaking to Polly about the reaction to his split, both publicly and in the office, Tyler said: "There's a lot of opinions that are based in speculation."
"Orange County is a really small town where everybody likes to gossip. Ultimately, I know I'm not doing anything wrong," he continued. "I am single."
Polly also spoke about Tyler's divorce on the Reality Life with Kate Casey podcast. She said their split can been on "the cards for a while".
"The revelations that came out in season 1, I don't think that helps the situation," Polly said. "I mean, it wasn't a surprise to his close friends. Maybe it was a surprise to other people in the office who aren't as close with him. He is a very private person. And I, you know, respect that fully. So I wasn't surprised, no."
What has Brittany Snow said about her divorce from Tyler Stanaland?
Brittany broke the news of their split on Instagram back in September 2022. She wrote: "After time and consideration, Tyler and I have made the difficult decision to separate. This decision was made with love and mutual respect for one another."
"We have realized we need to take some time and make sure we are each living our most fulfilling and authentic lives. We started this journey as best friends and our relationship will continue to be a priority not only for us but for our dog Charlie. We sincerely appreciate your support and ask for privacy as we navigate this new chapter."
In August 2023, Brittany told PEOPLE that she's currently trying to focus on herself and "tune out the noise."
She previously opened up about how her Pitch Perfect co-stars helped her through a particularly tough time last year.
"In the past year I went through probably the hardest mental health challenge I've ever faced," she told Bustle. "In one day, in a matter of hours, my life turned completely upside down. I was blindsided and everything I thought I knew, held sacred and truly trusted in my life was completely different."
"A couple days later my grandmother passed away and I think every thing I knew about mental health was tested," she added. "Thank God for my friends. I don't know if I would have made it without them. They reminded me who I was and the things I stood for."
Read more about Selling Sunset and Selling The OC here:
Olivia Rodrigo vs. 'The Most Impossible Olivia Rodrigo Quiz' | PopBuzz Meets