Sex Education ending: Here's what happens to all the characters in season 4
21 September 2023, 14:54 | Updated: 21 September 2023, 15:05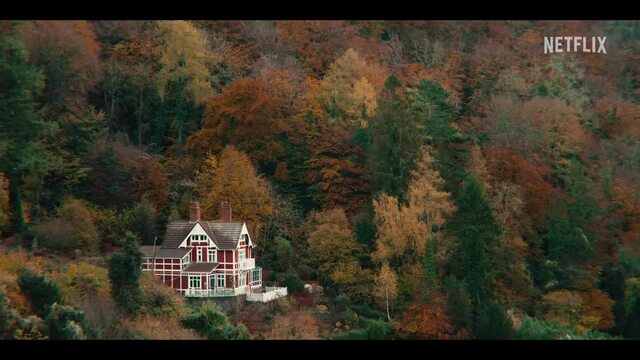 Watch the trailer for Sex Education Season 4
Here's what happens to Otis, Maeve, Eric, Aimee and everyone else at the end of Sex Education season 4
And that's a wrap on Sex Education! After 4 brilliant seasons, countless sex therapy sessions, several romances and several breakups, the Netflix series has officially come to an end with the final episodes of season 4.
Back in 2019, the world fell in love with the likes of Otis Milburn (Asa Butterfield), Eric Effiong (Ncuti Gatwa) and Maeve Wiley (Emma Mackey) and season 4 wraps up their stories in an incredibly emotional way. The ending will also leave fans wanting so much more from our fave Moordale students, too.
So, what happens to Otis and Maeve? Or Otis and Ruby, for that matter? Who is Jean's baby daddy? Does Jakob come back? Do Eric and Adam ever reunite? Will Aimee overcome her intimacy issues? What happens to Jackson and Cal? Where did Ola and Lily go?
So many questions! Here's a recap of what happens to each character at the end of Sex Education season 4. Obviously, there's massive spoilers ahead!
Here's what happens to Otis, Maeve, Eric, Aimee and everyone else at the end of Sex Education season 4
WARNING: Major spoilers ahead for Sex Education season 4's ending!
Otis
In the penultimate episode of season 4, Otis finally has sex with Maeve but the two break up after Maeve decides to move back to America to continue her studies. In the final episode, it's revealed that they have agreed to not contact each other for a while, which also puts a bit of a downer on Otis.
He apologises to Jean after he discovers she was the one who accidentally persuaded Maeve to go back to U.S, and he also reunites with Eric after not spending much time with him over the past few weeks. Otis also comes second in the student election, but gives up the role of Cavendish's sex therapist to O.
As for his relationship with Ruby? That seems off the table now too as Ruby appears to dismiss his offer of friendship.
At the end of the series, Otis finds a handwritten letter from Maeve in his bedroom where she thanks him for helping her open up and imagine something bigger for herself. The show ends with Otis looking out of his bedroom window.
Maeve
After a devastating season for Maeve, she ends up returning to America to follow her dreams of becoming a writer.
In episode 7, Maeve scatters her mother's ashes in the caravan park and gives Aimee and Isaac her blessing to pursue their budding relationship. She also finally has sex with Otis before saying goodbye to him the next morning to head back to the States.
In the final episode, we find out that Maeve's Southchester piece was submitted to Goodhart Books and they want to read more of her writing. The very last scene of the series features a voiceover from Maeve as Otis reads her heartfelt letter, thanking him for helping her and lamenting that they can't be together.
READ MORE: Do Otis and Maeve end up together in Sex Education? Season 4 ending explained
Eric
Eric's ending? Phew! It's a big one. Throughout season 4, Eric focuses on connection to his church and his community, and experiences a series of spiritual happenings involving a mysterious figure played by Jodie Turner-Smith. Turns out, Jodie is actually God.
After walking out of his baptism due to the lack of support for his sexuality, he encounters God again who tells him that his true calling is to become a pastor, saying: "You will change hearts and minds and let everyone know that I love them for who they are."
At the end of the series, Eric's church community – led by his mother – comes to him and expresses that they want his help to make their church more open and inclusive. He tells Otis that he's going to become a pastor, and that's the last we see of Eric!
Oh, and as for his relationship with Adam? They do not get back together, nor do they really interact. Eric gives Adam some advice at Maeve's mum's funeral, the two make amends and move on with their lives.
Aimee
Over the course of season 4, Aimee is still working hard to rebuild her confidence and her intimacy issues. She begins to have feelings for Isaac after spending more time with him at Cavendish, but is hesitant because of his former relationship with Maeve.
In the final episode of the series, Aimee is finally able to overcome what happened to her on the bus, burning the jeans in the middle of the road and throwing herself a photoshoot at the bus stop. At Cavendish's fundraiser night, she finally kisses Isaac and the two begin to explore their relationship together.
Jean
It's been a rough ol' season for Jean Milburn! Jean has been suffering from postpartum depression after giving birth to Joy. She does not get back with Jakob. In fact, Jakob is absolutely nowhere to be seen in the final season.
After quitting because she felt it wasn't fair to baby Joy, Jean returns to her job at the radio station and finally finds her voice. She ends up making amends with her sister Joanna after a tumultuous stay in Moordale, helping her deal with the sexual abuse she went through as a teenager.
In the final episode, Jean invites Dan over to the house, and presumably (because we don't actually see it) tells him that Joy is actually his daughter.
Ruby
In season 4, Ruby finds herself on the outskirts at Cavendish but that's all turned out by the end of the season. After playing a key role in helping to find Cal, Ruby later ends up coming to her former bully O's defence when Cavendish turns on her as she is announced as the school's new therapist. As a result, the students of Cavendish finally open up to her and she is welcomed into Abbi, Roman and Aisha's friendship group.
In terms of her relationship with Otis? It's not great, but it's not bad. With Otis being focused on his relationship with Maeve, Ruby is left out again. Early in the season, Otis ends up spending the night with Ruby but nothing happens. They remain friendly, but after Ruby joins her new friendship group, she dismisses his offer of friendship and seems to move on from Otis.
Cal
Throughout season 4, Cal experiences serious gender dysphoria. Not feeling like themselves in the body they're in, Cal breaks down and ends up going missing. The entire school, along with Cal's mum, begin a search party to find them. Eric ends up coming across Cal sitting on the cliffs and, with Jackson's help, the two are able to reassure Cal and bring them home.
In the final episode, Aisha asks Cal if it's ok for the Cavendish fundraiser event to raise money for their top surgery. Jackson also texts Cal asking to hang out with them when they're feeling better, leaving fans with some hope that Jackson and Cal might still pursue either a friendship or a romantic relationship.
Jackson
After discovering a lump, Jackson is thankfully given the all-clear from the doctors to say that he does not have cancer. The discovery, however, spurs him to find out who his birth father is – something that his mother Roz is not ready to tell him.
Towards the end of the season, Jackson finds his birth father after discovering letters written by his mother to a man named Jerome. But when he goes to visit him, he promptly shuts the door in his face. He confronts his parents and Roz explains that had an affair with a married man before she met Sofia.
At the end of the season, Jackson reaches out to Cal and asks if the two can hang out once Cal feels better. The door is left open for their relationship.
Viv
Viv comes out on top after finally confronting her emotionally coercive boyfriend Beau at the end of season 4. Viv and Beau meet at Cavendish and the two quickly begin a relationship. However, Beau's controlling behaviour begins to wear Viv down and she breaks down.
With reassurance from Jackson and Aimee, Viv finally tells him to leave her alone or she'll report him. He finally listens to her and leaves, as Viv walks off with Jackson and Aimee, finally free of his behaviour.
Adam
Adam doesn't go Cavendish at all so his storylines happen away from the main group of characters. He finds work on a farm and ends up really leaning into it. He makes up with his father Michael Groff, and embraces the fact that his parents are back together again.
After a short but heartfelt chat with Eric, Adam finally finds the courage to start embracing his bisexuality, coming out to the girl who works on the farm with him. She then asks him out on a date.
Ashnikko Breaks Down 'Weedkiller' Track By Track | Making The Album