Addison Rae says she almost quit music after the negative response to Obsessed
22 August 2023, 16:43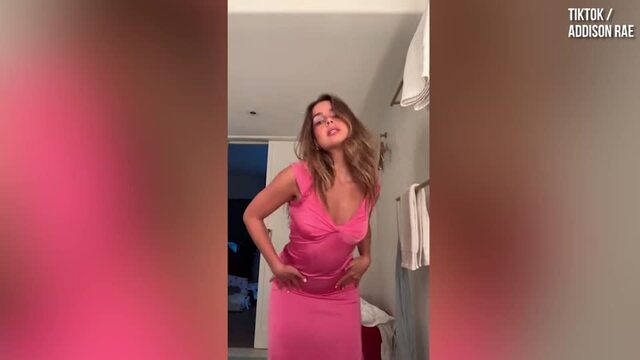 Addison Rae does the 2 Die 4 challenge
Addison Rae has now returned to music with a critically acclaimed new EP.
Addison Rae has opened up about her music career and how the initial reaction to 'Obsessed' almost made her quit singing.
The year is 2021. After becoming one of the most followed people on TikTok, Addison Rae turns her attention to music. She releases her debut single 'Obsessed' and performs it on The Tonight Show with Jimmy Fallon. Despite being a fun bop, the song is panned by critics and people are needlessly cruel about Addison's efforts to become a pop star on social media.
Fast forward to now and the tables have turned. Last week (Aug 18), Addison released an EP of beloved leaks and it's been met with genuine praise both on and offline (all four songs are expertly crafted bubblegum pop and '2 Die 4' even features Addison's close friend and biggest fan Charli XCX). People are finally on board with Addison making her own music.
However, in spite of all the love, Addison has revealed that she considered ending her music career for good back in 2021.
READ MORE: Lil Nas X signs Addison Rae's boobs in viral TikTok video
Talking to Vogue, Addison revealed that she recorded a lot before she released 'Obsessed'. She said: "I wrote a lot of songs, obviously, as one does when they're trying to figure out what they want to say, and what kind of music they want to make."
Addison then explained: "As I was doing that, I put out 'Obsessed' and I'm pretty hard on myself in general. I have very high standards for myself, and that can be my downfall sometimes. I just wanted people to know that I really care about music, and that I take it seriously. I put out 'Obsessed' and, you know, people didn't love it as much as I loved it."
Addison said that the negative response made her doubt herself. She said: "I think I had a really fragile sense of self at that time. I was 19, you know? It kind of crushed me for some time. I started feeling a lot of self-doubt, and those big dreams that I was pursuing, I just thought, 'Maybe I'm not good enough to do this.'"
Addison Rae: Obsessed | The Tonight Show Starring Jimmy Fallon
Surprisingly, it was Addison's music leaking that gave her her confidence back. People became obsessed with the leaks and it reminded Addison why she wanted to release music in the first place. She said: "I began to notice there was this group of people who were super-interested in them, and it restored a little bit of excitement about it all for me."
She added: "I was just really surprised, after what felt like a long period of time, that people were so interested and wanted to see me continue. So I began to realize that the only way I can fail is by not continuing. I think that's the most important thing I've learned over the past two-and-a-half years."
As for where her sound will go next, Addison said: "I just want to hear everything, I want to try everything, I want to do everything. And I want to work with people who will push me outside of my comfort zone."
In the piece, she cites Sophie as one of her favourite artists and says that she would love to work with Arca one day.
Addison Rae - 2 die 4 feat. Charli XCX (Official Audio)
Addison also said: "I think I know myself now, and I know what I want to do, and I know where I want to go, and to have full control over doing it exactly how I envision it. I wanted this EP to be the end note to the past few years, and a stepping stone forward in my career."
She ended by teasing: "And I can't wait to show you the next part."
Read more Addison Rae news here:
Peach PRC Paints A Self-Portrait And Answers Questions About Her Life | Portrait Mode