Tom Holland just bought 3 live chickens because there's no eggs left in supermarkets
24 March 2020, 17:14 | Updated: 24 January 2022, 15:45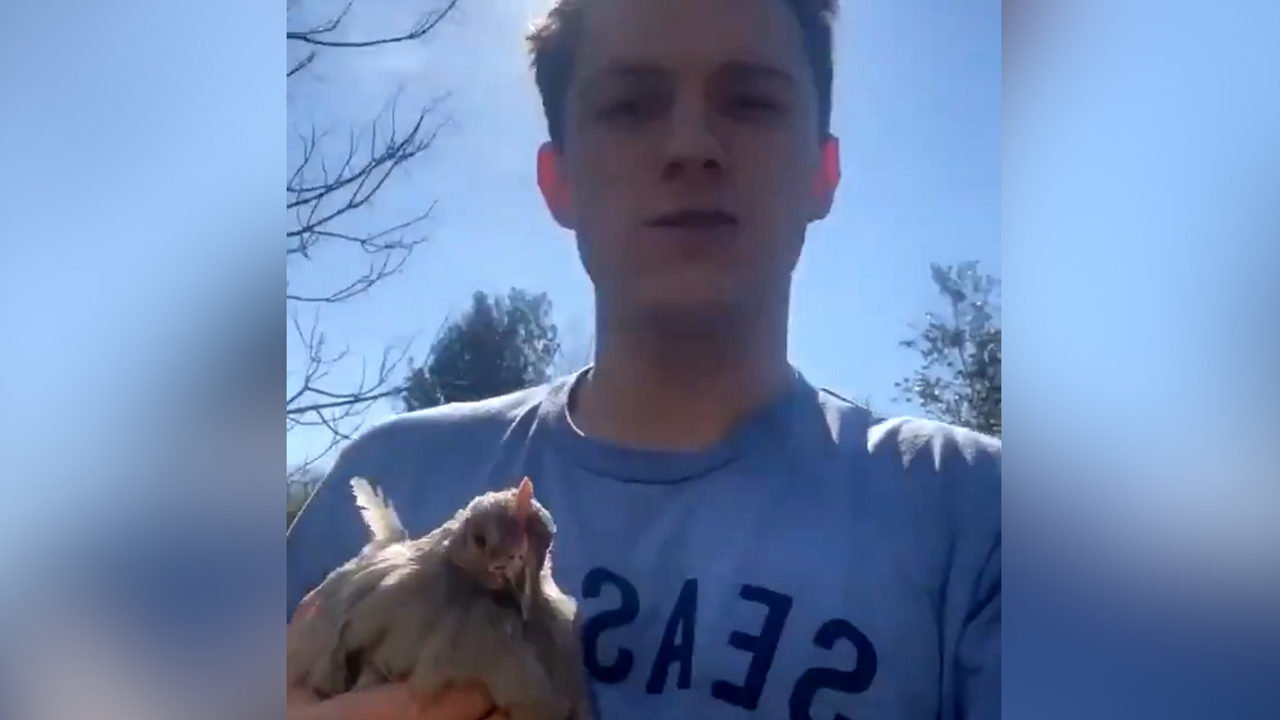 Tom Holland buys chickens because there's no eggs at the supermarket
"The ONLY celebrity whose quarantine experience matters is Tom Holland because he was out of eggs so he adopted a live chicken."
I think I speak for most of us when I say, we have already had enough of certain celebrities and their quarantine shenanigans. The constant Instagram Lives, the cringeworthy 'Imagine' covers, the irresponsible refusals to social distance...
But to counterbalance the awful, we've been blessed with some uplifting news and some chaotic good. Rihanna is donating $5 million to help battle coronavirus, Sophie Turner is dragging people who won't stay home on IG Live and Tom Holland...well, Tom Holland is now the owner of three chickens because he couldn't find any eggs.
In a bid to work around the current egg shortage in the UK due to the panic buying at supermarkets, Tom literally went out and adopted some chickens instead. No, I am not making this up. This is happening. And he's documenting the whole thing on Instagram.
In an update that he shared with his fans, Tom said: "With everything that's going on, the supermarkets are all empty and there's no eggs. We had no eggs. So, we thought, to solve that problem, we would become the source of eggs – and now we're the owners of chickens."
Tom now has three chickens, one called Predator (who features in his original video), one called Chestnut and one called Ranger.
Tom will now rear the chickens in his back garden with the help of his family and friends. No word on when the eggs will arrive though. Sit tight. This thrilling journey is only just beginning...
The way Tom Holland and his mates went to the supermarket, realised that all the eggs are gone and thought yah let's get chickens,,, chaotic good pic.twitter.com/i9Gt37HlUU

— beth (@vanelloki) March 22, 2020
The ONLY celebrity whose quarantine experience matters is Tom Holland because he was out of eggs so he adopted a live chicken and named it predator I'm not making this up

— Taylor Simonds (@tay_simonds) March 23, 2020
tom holland said "the grocery store is out of eggs" and his solution was to just fucking buy chickens...this is the type of rich dumbass he is and it's brilliant pic.twitter.com/PG3NsrnlZ2

— bell⋆✨ (@spiderlingdaya) March 22, 2020
all the other celebs: iMagINeE-
tom holland: just bought a chicken bc there were no eggs, whatsup with you luv

— 𝚏𝚘𝚛𝚎𝚜𝚝 𝚔𝚒𝚍𝚍𝚘🇦🇲🌿 (@forest_kid05) March 23, 2020
Earlier on his Instagram Live, Tom also let fans know that he wasn't feeling too great, although he "doesn't think he has coronavirus". He also took the time to spend more time talking to fans on social media.
"So, I'm not feeling great but I thought I'd just say hello," Tom said. "We're self-isolating at home. I woke up feeling really not very well but I'm okay. I'm gonna try and be a little bit more present on Instagram during this tough time because I have nothing else to do."
Wishing Tom a speedy recovery and, uh, a speedy egg delivery. All together now: LOOK AT ALL THOSE CHICKENS.
Read more Tom Holland news here: